Kodak denies it plans to file for bankruptcy protection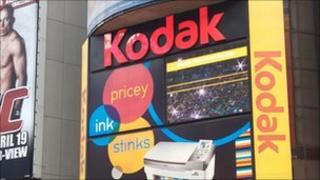 Eastman Kodak has said it has "no intention of filing for bankruptcy".
The struggling US camera and printing group's comments came after it confirmed it had hired a law firm well-known for handling bankruptcy protection cases, Jones Day.
Kodak said it was "not unusual for a company in transformation to explore all options".
Shares in the firm fell 54% on Friday as fears persist about its future. It has not made a profit since 2007.
Kodak, synonymous with film photography for more than 100 years, has struggled to adapt to the digital age.
Last week it announced plans to borrow $160m (£103m) for "general corporate purposes".
Kodak is now continuing to explore a sale of its digital imaging patents, worth an estimated $2bn.
Mark Kaufman, an analyst at Rafferty Capital Markets, said: "I don't believe bankruptcy is inevitable.
"This is a pretty valuable portfolio, they should get a good price.
"They need to get this [sale] out of the way. They need to sell this portfolio, raise some type of cash."
The company currently has a market value of $210m. This compares with $31bn at its height in February 1997.