Compulsory retirement age at 65 fully abolished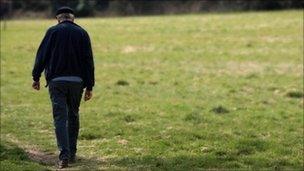 The default retirement age in the UK has been fully abolished after being phased out from April this year.
New legislation stops employers from compulsorily retiring workers once they reach the age of 65.
However, research by law firm Norton Rose suggests one in 10 firms plans to offer financial incentives to encourage workers to move on at a certain age.
The charity Age UK welcomed the legislation but said age discrimination was still prevalent in the workplace.
The legislation came too late for Andrew Webster, from Richmond in Surrey.
He was issued with a compulsory notice to retire from his job as an English teacher at a performing arts school.
''I was devastated. I had found a job I loved, I felt I was in my prime. I got on well with the students and they had good results," he said.
"I wanted to go on doing it for as long as possible and I needed the money as well so it was a terrible blow when it happened.''
He has found work as a tutor but said he took home only a third of his previous earnings, even taking his pension into account.
''I know it is too late for me but I am pleased that other people will not also be forced to retire before they are ready," he said.
That was the point after which employers could no longer issue the minimum six-month notification for compulsory retirement, using the default retirement age procedure.
If employers still want to enforce retirement, their decisions will have to be objectively justified, but workers can no longer be forced to retire on the grounds of age alone.
The Norton Rose research indicated that some firms were preparing to offer employees a "golden goodbye".
''Our survey suggests employers feel there will be limited ability to take on younger workers as a result of the default retirement age being removed and their perceived inability to ask more senior levels of staff to move on,'' said Paul Griffin, an employment lawyer at Norton Rose.
''If firms are approaching people to retire that could be seen as age discrimination in its own right.
"But our survey indicates that firms are willing to pay to encourage people to move on at a certain time in their career."
Age UK said that instead of focusing on making space in firms for younger employees, businesses should instead look at the benefits that experienced older workers could bring.
Christopher Brooks, head of policy for work and learning at Age UK, said there was still a prevailing culture of ageism.
"Many employers simply see the stereotypes of an older worker, particularly in the recruitment phase and statistics show older workers find it harder to find another job than any other age group," he said.
''Discrimination in the recruitment process is against the law, but it still happens in practice quite a lot.
"It is however quite hard to prove but we do get lots of feedback from people who have been in interviews and been told they are over qualified or just too old to do the job, which quite often amounts to age discrimination."
Chief executive Liz Fields from business consultancy the Financial Skills Partnership said keeping older workers had benefits.
"The skills and life experience that an older person can bring to a business actually helps that business become much more competitive," she said.
However, the Federation of Small Businesses said the move was "unnecessary meddling".
"It will lead to a legal quagmire for a lot of small business owners. If you can't get rid of someone, you then have to go through the process of performance managing someone out of an organisation, which if you have a big HR department and you're experienced in these things is easy," said Andrew Cave from the federation.
"The average business in this country employs four people. The owner-manager doesn't necessarily have that expertise."
Related Internet Links
The BBC is not responsible for the content of external sites.