Minimum wage up by 15p to £6.08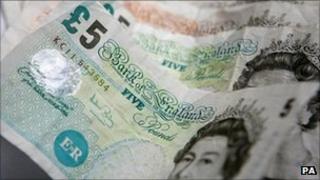 The minimum wage has gone up, with the main rate for adults aged 21 or over rising by 15p to £6.08 an hour.
The development rate - for those aged 18 to 20 - goes up by 6p to £4.98 an hour, for 16 and 17-year-olds it rises by 4p to £3.68 an hour and the hourly apprentice rate rises by 10p to £2.60.
The TUC welcomed the rise but Unison said the rates were still too low.
The minimum wage was introduced in 1999 at £3.60 an hour for adults, and is set each year by the Low Pay Commission.
The commission recommended this year's increase in a report to the government in April.
It said the increases would balance the needs of low-paid workers and their employers facing difficulties during a period of economic uncertainty.
As levels of youth unemployment are relatively high, it recommended a lower increase for young workers than for their older counterparts, to try to encourage employers to keep them on.
The TUC it estimated the increases would benefit nearly 900,000, mainly female, workers.
The general secretary of the public sector union, Unison, said £8 an hour was needed to provide a living wage.
"The rise to £6.08 is a welcome cushion, but with the price of everyday essentials such as food, gas and electricity going up massively, it won't lift enough working people out of the poverty trap," Dave Prentis said.
As a result, he called on employers to pay more than the absolute minimum.