Barclay brothers buy London hotel Claridge's from Irish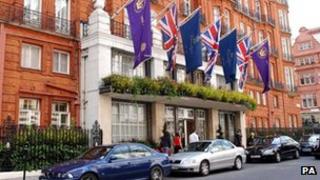 The Barclay brothers have bought three of London's top hotels, including Claridge's, for 800m euros (£695m).
They acquired Claridge's, the Connaught and Berkeley from the National Asset Management Agency (Nama), the Irish government agency created to manage the toxic property loans of its bust banks.
Nama said it had recovered 100% of the original value of the loans plus interest.
The Barclays already own the Ritz hotel in London.
The loans had originally been made to the Maybourne Hotel Group by two Irish banks to fund the acquisition of the hotels in 2005.
By buying the loans, the Barclays have acquired the hotels.
Nama took control of the bad property debt from Irish banks during the height of the financial crisis, and it is tasked with maximising the return to the Irish taxpayer over the long term.
The agency has said that it wants to dispose of 5bn euros of UK loans in 2011. Its annual report listed total UK assets of about £8.5bn.
Sir David Barclay and his brother Sir Frederick also own the Daily Telegraph and the Littlewoods retail group.