Full Tilt Poker licence revoked by Alderney authority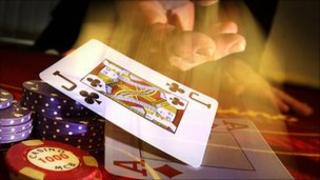 Besieged online gambling site Full Tilt Poker has had its licence revoked.
The move comes after the Alderney Gambling Control Commission (AGCC) held a hearing about the US-run site, which is registered on the Channel Island of Alderney.
The AGCC said that the owners of Full Tilt Poker had misled authorities over the amount of cash to hand.
This month, the US accused the firm of being a "global Ponzi scheme" that defrauded players out of $440m (£289m).
Full Tilt Poker's licence was suspended by the AGCC in June.
Full Tilt Poker "had fundamentally misled AGCC about their operational integrity by continuously reporting as liquid funds balances that had been covertly seized or restrained by US authorities, or that were otherwise not actually available to the operator," the regulator said.
The AGCC said the revoking of the licence did not prevent new owners from rescuing the business.
Crisis jargon buster
Use the dropdown for easy-to-understand explanations of key financial terms:
AAA-rating
The best credit rating that can be given to a borrower's debts, indicating that the risk of borrowing defaulting is minuscule.
Illegal
Although online gambling is illegal in the US, internet poker remains a multi-billion dollar industry because companies use a variety of ways to flout the law, including locating operations offshore.
The US Justice Department said earlier this month that Full Tilt had "defrauded players by misrepresenting that their funds on deposit in online gambling accounts were safe, secure and available for withdrawal at any time".
"In reality, Full Tilt Poker did not maintain funds sufficient to repay all players, and in addition, the company used player funds to pay board members and other owners more than $440m since April 2007," it said.
The US also charged two other online poker companies, PokerStars and Absolute Poker, with money laundering and illegal gambling in April.