Spain halts national lottery privatisation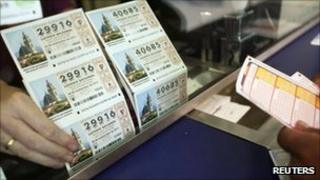 Spain has stopped the part-privatisation of the national lottery which had been expected to raise billions of euros.
The sale of up to 30% of the national lottery was postponed because the market valuation had been too low, the finance ministry said.
It intends to start the sale process again when conditions improve.
Spain had hoped to sell off a number of its assets, including 49% of the airports operator, to cut its deficit.
The lottery sale had been expected to raise several billion euros and would have been the country's biggest privatisation. It would also have created one of the biggest firms on the Spanish stock exchange's Ibex index.
It had been approved by the Spanish government just last week and presentations for potential investors had been expected to start at the beginning of October.
"Rather than have it valued for less than we had expected and for less than we believe to be the fair value, we decided to delay this listing," Finance Minister Elena Salgado told Spanish radio.
"Among individual investors there was and still is an extraordinary interest and among institutional investors too, but at prices that we did not want to accept."
But analysts suggested that opposition to the sale from the Popular Party, who are considered likely winners of the general election in November, may have played a part in the decision to pull it.
Elena Salgado added that the sale of almost half of Aena, the airports operator, would still go ahead.