Samsung to pay Microsoft royalties over Android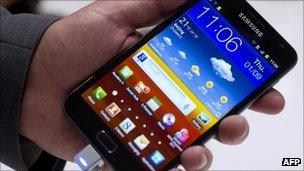 Samsung is to start paying Microsoft royalties for every sale of its smartphone and tablet computers that run the rival Google Android platform.
Microsoft has long accused Android of violating its patents.
Google said its US rival Microsoft was "resorting to legal measures to extort profit from others' achievements and hinder the pace of innovation".
Meanwhile, Samsung has received support from T-Mobile in its continuing legal fight with Apple.
Google said Microsoft was resorting to "the same tactic we've seen time and again".
It added: "We remain focused on building new technology and supporting Android partners."
Per Roman of technology investment bank GP Bullhound said he was not surprised by the Samsung-Microsoft announcement.
"Many people have long said that Android contains some Microsoft technology," he said.
"Ultimately we are in the area of IP [intellectual property] wars. There is now an intense battle among the technology giants regarding their IP portfolios."
Samsung has also received help from T-Mobile in its continuing legal battle with Apple.
Samsung and Apple are facing each other in courts around the world as they wrangle over patents used in smartphones and tablets.
Apple has applied for an injunction that would stop Samsung selling many of its products in the US. A hearing on the injunction is scheduled for 13 October.
Now T-Mobile has filed papers with the court saying any ban would bring "unnecessarily harm" to it and its customers because it would not be able to find alternative products before the busy holiday season.
T-Mobile's backing for Samsung follows support from Verizon which earlier this week said legal rows over who owns which patent should not hamper the flow of future devices.
South Korea's Samsung has further agreed to co-operate in the development and marketing of Windows Phone, Microsoft's own smart phone operating system.
Andy Lees, president of Microsoft's Windows Phone division, said: "Microsoft and Samsung see the opportunity for dramatic growth in Windows Phone and we're investing to make that a reality."
Samsung's executive vice president of global product strategy, Hong Won-Pyo, added that the two firms would "continue to bring the latest innovations to the mobile industry".
Related Internet Links
The BBC is not responsible for the content of external sites.