Mobility aids scams threaten elderly, says OFT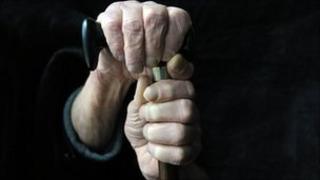 Elderly and disabled people face risks from unscrupulous traders offering stairlifts and other mobility aids on the doorstep, a watchdog is warning.
The Office of Fair Trading (OFT) is promising to try to stamp out unfair sales practices, by removing credit licences and encouraging trading standards officers to prosecute.
The watchdog said it had received thousands of complaints.
Buyers can pay 50% more than High Street prices on the doorstep.
Some have overpaid by hundreds or even thousands of pounds.
Promises
The OFT has received thousands of complaints about sales of the equipment, which includes mobility scooters, special chairs and adjustable beds.
Some victims found the equipment they were promised failed to turn up.
May Bell, an 88-year-old from Sheffield, told BBC News how she was left £1,800 out of pocket and trapped on the ground floor of her house after a visit from a salesman.
"I thought I'd had it," she said. "I thought it was the end of my time."
She had been promised a new stairlift. But after her old one was disconnected, the replacement did not arrive.
For five weeks, she was forced to sleep in a chair and use a commode instead of her toilet.
In July, the man who visited her, Shane Johnson of Nottingham Mobility, was convicted of breaching consumer protection regulations and sentenced to a year in prison.
Ann Pope, from the OFT, promised more enforcement activity to protect consumers.
"We are issuing a warning to the industry that we will take further action where necessary," she said.
Rules
There is nothing to prevent traders knocking on doors, although there are rules on what they can do once they gain entry to a potential customer's home.
They should show identification and be honest about who they are. They should make it clear that they are selling something and not put consumers under pressure.
Some doorstep sellers have pretended to be from social services to establish trust. Others stay for hours and refuse to leave.
In Sheffield, May Bell had a new stairlift installed for free after the manufacturer heard about her plight. But she remains frightened about answering the phone or dealing with a knock on the door.
Her granddaughter, Frances Bell, is still angry about what happened.
"They are scum to do that to old age pensioners, to vulnerable people, and leave them in the situation that they left my nan in," she said.