Kingfisher to exit budget airline business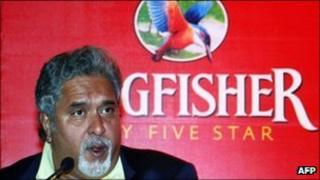 India's Kingfisher Airlines plans to pilot a new premium business model and ground its existing low-cost outfit.
The airline, India's second biggest private carrier, is run by drinks baron Vijay Mallya, who said changes would come in the next four months.
The budget arm of the airline, which was created in 2008, is called Kingfisher Red.
"We are doing away with Kingfisher Red because we do not intend to compete in the low-cost segment," Mr Mallya said.
'Better yields'
"We believe that there are more than enough guests who prefer to travel the full service Kingfisher class and that shows through in our own performance where load factors in the Kingfisher class are more than Kingfisher Red," he said.
Kingfisher started business as a full service carrier in 2005. Three years later it bought out Deccan, India's first budget airline, and the merger resulted in the budget arm being created.
"The margins of Kingfisher class are higher than Kingfisher Red. That's because the yields are better," Mr Mallya, who is chairman and chief executive of Kingfisher, added.
The move bucks the current trend in Indian aviation, where half of the six major airlines are budget carriers.