Aston Martin is 'coolest UK brand'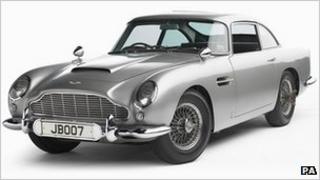 Iconic car marque Aston Martin has once again won the crown as the coolest brand in the UK.
The company pipped computer giant Apple to the top spot for a second year running, according to the annual CoolBrands survey.
The carmaker shot to fame due to its association with James Bond films, first appearing in Goldfinger in 1964.
The league tables are based on the opinions of marketing experts, business people, and thousands of consumers.
The survey found that women were just as impressed with technology brands as men, with 47% voting Apple their most popular tech brand while 44% voted for BlackBerry.
But women also voted for shoe label Jimmy Choo and Dom Perignon champagne.
The only cool cultural venue in the top 20 was London's Tate Modern gallery, coming in at number 19.
Stephen Cheliotis, chairman of the CoolBrands Expert Council, said: "Cool is subjective and personal. But being identified as a Cool Brand by the British public and a panel of influential opinion formers implies it is a brand that most Brits wish to own.
"Votes are based on a wide criteria of factors but these brands are clearly delivering cool in the eyes of consumers and influencers alike," he said.