Could impact investing help India's poor?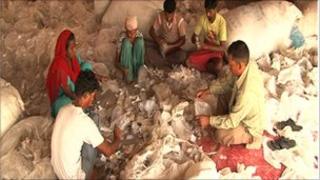 Sorting out plastic bags collected from rubbish tips is a serious business for Virender Kumar.
Sitting on a pile of plastic bags, he is busy giving directions to the labourers he employs to help him with the recycling.
Once the bags are sorted, he sells them to recycling units to be melted down into plastic pellets.
He makes about 20,000 rupees ($410; £262) profit every month. But he has bigger ambitions that need funding.
He says that by working overtime, he saved money to start the recycling unit. But now he wants to hire more people and expand the business.
"But everything needs money," he says. "Banks don't lend to people like me."
India's growing middle class has been a target for many companies, but now another segment of society is increasingly becoming a focus for investors - people living below the poverty line.
But can businesses make a profit and also serve a social purpose?
Loan controversy
People like Mr Kumar are now being wooed by financial institutions such as the Shriram Group.
While millions of people across India have little or no access to formal finance, investment funds which want to make a social impact are lending a helping hand.
These funds invest in people and sectors that traditional banks ignore. It is called "profit with a purpose".
But they are using insurance as a means of helping small businesses rather than loans.
Microfinance, or giving small loans to low-income borrowers, has received a lot of bad press in India recently.
The sector was booming until a spate of suicides by borrowers in the southern state of Andhra Pradesh led to the authorities tightening regulations.
At its peak, the microfinance sector saw almost $7bn in loans distributed to 30 million borrowers, and Andhra Pradesh accounted for a third of the total business.
As a result of the new laws, debt repayments fell drastically and the entire sector is now facing a massive consolidation, and many lenders have been forced to shut up shop.
Microinsurance is different from microfinance as this provides a safety net to prevent people from falling back into poverty.
The International Labour Organisation describes microinsurance as a mechanism to protect poor people against risk (accident, illness, death in the family, natural disasters etc) in exchange for insurance premium payments tailored to their needs, income and level of risk.
If a person earns $5 a day, making $150 a month, and a typical insurance product is under $4 a month, that person is able to, with that very limited amount of capital, free their family up substantially.
Having that extra protection means that instead of sending the children to work to save for a rainy day, they can send them to school.
Capital injection
Leapfrog is a $135m US-based impact investment fund that was set up to invest in companies that underwrite or distribute insurance.
The fund is backed by billionaire George Soros and e-bay founder Pierre Omidyar, as well as a consortium of banks, pension funds and reinsurers.
Leapfrog says that it is a big myth that because people have low incomes they are unable to pay for meaningful products.
"We are looking at the next billion consumers," said Andrew Kuper, co-founder of Leapfrog.
"The consumers who are rising out of poverty and into the middle-classes… aspiring, seeking to acquire financial services and other services that allow them to go on their journey in a more effective way."
He thinks businesses that serve that segment are going to have a massive competitive advantage.
"The ability with a very small percent of your income - less than 4% - to totally reshape your microeconomic picture and the daily choices that you and your family make is a huge opportunity.
"What isn't happening is companies getting to grips with the notion that you can serve that population, and we find that it is a very narrow slice of companies. Fortunately we are engaging with them."
More than 85% of Shriram Group's customers are first-time buyers of any financial product. It is the first provider to more than 98% of its customers. The group hopes that the capital injection from Leapfrog will benefit 10 million people in India.
G S Sundararajan, managing director of Shriram Capital, says his company is targeting people with an average annual income of $2,500.
"We already offer financing and investment services to the lower-income masses across India. Now, we plan to increase it even further. We'll be using Leapfrog's expertise to design new insurance products that are more effective for our existing consumers."
Huge potential
Microinsurance is not a new concept in India. The country was one of the first to introduce microinsurance regulation.
The Insurance Regulatory and Development Authority (IRDA) made it mandatory for all formal insurance companies to extend their activities to rural and social sectors as early as 2002.
But microinsurance companies face a huge challenge in connecting with customers. Many companies have been trying creative ideas - for example, the Shriram group is using its transport finance wing to connect with truck drivers and sell products to them.
India's biggest fertiliser company, IFFCO, provides free insurance cover to farmers along with each bag of fertiliser purchased. It has a joint venture with Tokio Marine and Nichido Fire Group, the largest listed insurance group in Japan.
It also provides a cattle insurance policy that covers the death of the animal due to accident, disease, surgical operations, strike, riots and even acts of terrorism or an earthquake.
The potential is huge. A study by the United Nations Development Programme (UNDP) in 2007 reported that up to 90% of the Indian population, or 950 million people, were excluded from the insurance market and represented a powerful "missing market".
But the private sector is risk-averse when it comes to investing in such people.
And just government resources and charitable donations cannot address the enormous social problems the country faces. Impact investments offer an alternative.
Reducing poverty
Recognising this growing segment, the biggest newspaper in the country, The Times of India, in association with J P Morgan, has announced awards for social impact.
Rahul Kansal is the organiser of the awards and he says that there are opportunities beyond just microinsurance for social impact in the country.
He says that large scale private capital can be channelled to public works.
"Increasingly we are seeing that in a country like India, there are avenues like healthcare, education, civic areas like waste management which need attention."
"The government cannot cope with the size of the problem. This is where organisations both for profit and non-profit can step in."
He thinks this large-scale neglect and need could be the next big investment opportunity.
A loan helped finance a new truck for Virender Kumar, increasing his profits by more than 50%. But he has also got life insurance and accident cover that came bundled with his truck financing, to protect his family.
It is people like him that are benefiting most by impact investments. Reducing poverty requires not just the generation of income among the poor, but also the protection of these incomes.
They are people who are making the transition from the informal to the formal economy - and bringing financial products to them gives them a chance to be included in the country's rapidly growing economy.