Global leaders call for euro debt action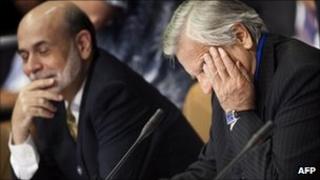 Finance ministers and central bankers meeting in Washington are calling on the European Union to take quick action to tackle the eurozone debt crisis.
Ministers are meeting alongside the IMF and World bank to discuss measures to support the world economy.
US Treasury Secretary Timothy Geithner said EU governments must act to prevent a "cascading default" in the eurozone.
The Chinese central bank governor and Brazil's finance minister have also called for action to tackle the crisis.
Global concerns
The meeting in Washington follows warnings from the IMF and the US Federal Reserve that the global economic recovery is at risk.
Mr Geithner called for the European leaders to take stronger steps to prevent what he called "the threat of cascading default, bank runs and catastrophic risk" if some European nations default on their debts.
Governments from emerging economies have also expressed their concerns that financial instability in the West may de-rail the global recovery.
Brazil's finance minister, Guido Mantega, called on eurozone leaders "to ensure their actions stop contagion beyond the euro periphery" of Greece, Ireland and Portugal which have already received bailouts.
Chinese central bank governor Zhou Xiachuan warned that all nations with large deficits - including the US and Japan should reduce spending.
"The sovereign debt crisis must be resolved promptly to stabilise market confidence, and forced and credible consolidation measures are needed in relevant economies," he said.
Speaking in New York to the United Nations the Indian Prime Minister, Monmohan Singh, said the global recovery had failed to take hold.
"In many respects the crisis has deepened further," he said.
Greek default?
World leaders are keen to reassure markets which have been highly volatile over the summer due to worries over financial instability and economic growth.
The UK's FTSE 100 fell 3.6% over the week, France's Cac 40 shed 4.4% and in the US the Dow Jones dropped 6.4%, its biggest weekly fall since October 2008.
On Thursday G20 leaders pledged to take action to prevent the crisis escalating.
However there is not yet agreement on what measures to take.
The Greek government has so far failed to meet targets set as part of its bail-out package with the EU and IMF.
German finance minister Wolfgang Shaeuble said on Saturday that he will meet his Greek counterpart, Evangelos Venizelos, in Washington to discuss the crisis.
Reports that the EU may accept an "orderly default" on Greek debts have concerned some investors.
The bail-out deal agreed with Greece in July already included a limited move by private banks to swap existing Greek debt with longer term debt paying lower interest.
"The fear in the markets is that the problem will spread to bigger economies such as Spain and Italy, Europe would not have the resources to handle a crisis of that magnitude," said Sung Won Sohn, economics professor at California State University.
Mr Shaeuble suggested the recent downgrade of Italy's credit rating by Standard and Poor's may encourage it to speed up its own austerity measures to reassure markets.
"Perhaps Italy will see in the downgrade of its debt the opportunity to implement more quickly and with more diligence the measures it has taken," he said.
Measures being discussed include a further expansion of the the European Financial Stability Mechanism designed to increase funds available to countries and banks which run into trouble.
However the mechanism, agreed by leaders on 21 July, has yet to pass most national parliaments.
Governments have now given themselves to mid-October to pass the measure.
"We are confident that all euro area member states will ratify the agreement," said a spokesman for Olli Rehn, the EU head of monetary affairs.