Hewlett-Packard replaces Leo Apotheker with Meg Whitman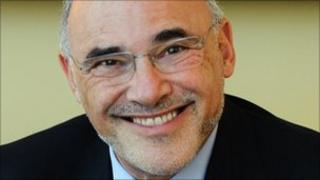 Leo Apotheker has been replaced as chief executive of Hewlett-Packard by Meg Whitman, the former head of eBay.
Mr Apotheker was in the job less than a year, but had overseen a collapse in the share price and a fall in sales.
Ms Whitman, who once ran for governor of California, resigned from eBay in 2008 and is credited with building it into a global force.
HP announced the departure after a board meeting, but there had been speculation for days about his future.
In a statement, Ray Lane, who was named executive chairman, said: "We are fortunate to have someone of Meg Whitman's calibre and experience to step up to lead HP.
"We are at a critical moment and we need renewed leadership to successfully implement our strategy and take advantage of the market opportunities ahead."
Ms Whitman, who had been a member of the HP board since January, said in a statement: "I am honoured and excited to lead HP. I believe HP matters - it matters to Silicon Valley, California, the country and the world."
It is the second time in two years Mr Apotheker has been forced out of a top job. He stood down from German business software maker SAP last year, after less than a year as chief executive.
He took over HP after the departure of former boss Mark Hurd, who quit after a sexual harassment investigation.
The new chief replaced a third of the HP board, brought in Ms Whitman, announced plans to sell the personal computer division - the world's largest - and bought UK software maker Autonomy for £7.1bn ($11.7bn).
But his strategy has failed to impress investors. HP's shares have fallen 45.4% this year, making it one of the worst performers in the Dow Jones index of leading US companies.
HP's shares closed down 4.8% at $22.80 on Thursday.