UK manufacturing orders fall, says CBI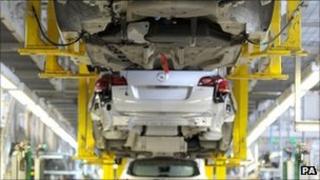 UK manufacturing orders fell back in September after rising in August, according to the CBI.
Its Industrial Trends Survey indicated total orders hit their lowest level since October last year.
However, manufacturers said they expected orders to increase over the next three months.
Earlier, there was better news from the UK motor trade, which said production had risen 11% in August and was expected to expand next year.
Weak data
The CBI's survey found 31% of manufacturers said orders were below normal in September, while 22% of firms had above-average orders. The negative balance of 9% follows a positive reading of 1% in August,.
The finding adds to a wider picture of gloomy economic news.
Earlier this week, the International Monetary Fund revised down its growth forecast for the UK from 1.5% to 1.1%, and public sector net borrowing in the UK during August was £15.9bn - a record for the month, although the estimate of borrowing in previous months was revised down.
The Bank of England's latest minutes of its Monetary Policy Committee showed it was so concerned about the state of the economy that it was considering restarting its Quantitative Easing (QE) programme to pump more money into the economy.
Optimism
Elsewhere in the survey, the CBI said there were signs of firms planning to raise prices, but less so than in the first half of the year.
The CBI's chief economic adviser, Ian McCafferty, said: "UK manufacturers report some slackening in demand this month, following the volatility in financial markets and the slowdown in growth in our major trading partners.
"Nevertheless, UK manufacturers remain optimistic that production will continue to grow over the coming three months."
The CBI survey featured responses from 470 manufacturing firms.