Eurozone business shrinks for first time in two years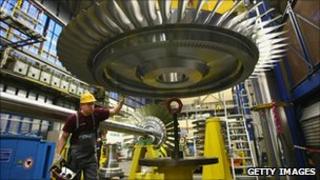 The eurozone's private sector contracted in September for the first time in two years as the debt crisis continued, a survey has indicated.
Markit's purchasing managers' index (PMI) of activity dropped to 49.1, from 51.5 last month. A reading below 50 indicates contraction.
"The recovery has finished, we are now contracting," said Chris Williamson from Markit, the survey's compiler.
"Things will deteriorate further in the coming months."
Factory output in the 17 countries that use the euro contracted for the second month running.
The region has been weighed down as leaders struggle to prove that heavily indebted countries, led by Greece, will be able to avoid defaulting on their debts.
This has led to bailouts for Greece, the Irish Republic and Portugal - but the crisis has continued and has weighed on bonds and stocks globally.
Business activity in Germany, Europe's largest economy, grew at its weakest pace since July 2009, hovering just above a reading showing contraction.
"The recovery in Germany's private sector economy is teetering on the brink, with both manufacturing and services growth close to stagnation," Markit said.