Google denies 'cooking' search results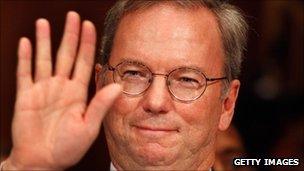 Google's executive chairman has denied that the company fixes its search results to promote its own websites and services.
Eric Schmidt told a congressional hearing in Washington: "May I simply say that I can assure you we're not cooking anything."
The Senate Judiciary subcommittee on anti-trust is looking at whether Google abuses its market position.
The US Federal Trade Commission is also investigating the same issue.
The website search giant faces a further continuing investigation by the European Commission.
'Extraordinary advantage'
Mr Schmidt told the senators: "Google does nothing to block access to any of the competitors and other sources of information."
When asked whether Google was a monopoly company, Mr Schmidt said the search engine giant was "in that area", adding that it recognised it had a special responsibility because of its market power.
In reference to software giant Microsoft - which faced years of anti-competition investigations and subsequent fines - Mr Schmidt said: "We get it. By that I mean, we get the lessons of our corporate predecessors."
Concern over Google's domination of the internet search - it has a global market share of about two-thirds - has grown as the company continues to expand into other internet areas, such as its own price comparison website and buying US mobile phone firm Motorola Mobility.
Sen Michael Lee of Utah said that Google's market dominance gave it an "unnatural and extraordinary advantage", and it had a "clear and inherent conflict of interest".
Mr Schmidt was chief executive of Google for 10 years until April, when he was replaced by Larry Page, one of the company's two founders.
Related Internet Links
The BBC is not responsible for the content of external sites.