Saab wins bankruptcy court appeal decision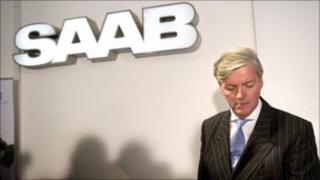 Troubled carmaker Saab will seek bankruptcy protection after winning a court appeal against a decision earlier this month preventing it from doing so.
The court of appeal said its decision "reverses the district court ruling and allows Saab to reorganise".
The carmaker has been trying unsuccessfully to get new funding to ensure the business's survival.
It hopes bankruptcy protection will give it time to secure new investment from China.
Saab has been struggling with falling sales and was forced to suspend production in April.
Two Swedish unions had applied for the company to be declared bankrupt, because it has been unable to pay wages.
Chinese investment
Swedish Automobile, formerly called Spyker, bought Saab from US giant General Motors in January 2010.
Before the summer, Swedish Automobile announced that two Chinese firms would buy minority stakes in the company.
However, these deals have not yet had regulatory approval in either Sweden or China and analysts have cast doubt on whether the Chinese government will approve the investments.
They also need to be approved by the European Investment Bank (EIB).