Greece bailout: Cabinet meets to discuss faster cuts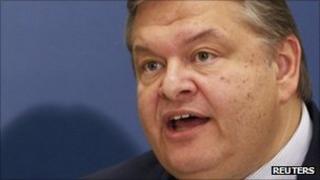 The Greek cabinet is meeting to discuss accelerating austerity measures aimed at securing further bailout funds to help ease the country's debt crisis.
An announcement on the measures agreed will be made later, a government spokesperson said before the meeting.
Late on Tuesday, the European Commission said "good progress" had been made on talks to release funds.
The commission said officials would return to Greece next week to review the progress in cutting debt.
Debt inspectors from the European Commission, the European Central Bank and the International Monetary Fund (IMF) will visit Athens to carry out the review and continue policy discussions with the Greek government.
At stake is an 8bn euro (£6.9bn) tranche of aid which is urgently needed to help pay government bills, including public wages and pensions.
Greece is under pressure to plug a budget hole of more than 2bn euros to meet the terms of the 110bn-euro bailout from Europe and the IMF.
"We have to take supplementary measures... because of the recession and the weakness of the central administration have not produced the required results," said Finance Minister Evangelos Venizelos ahead of the cabinet meeting.
"The choices we are making are, unfortunately, absolutely necessary."
US stimulus
The Greek debt crisis continued to unsettle markets on Wednesday, with major European exchanges sliding in early trading after booking gains in the previous session.
Germany's Dax and France's Cac 40 indexes fell about 1%, while the UK's FTSE 100 slipped 0.3%.
As well as the outcome of Greece's cabinet meeting, investors are also eagerly awaiting the conclusion of the US Federal Reserve's two-day meeting, after which it will announce whether it will implement any new measures to help stimulate flagging US economic growth.
Some observers expect the Fed to announce a third round of quantitative easing, through which it creates money to buy financial assets to boost demand in the economy.