JD Sports says rioters looted £700,000 of stock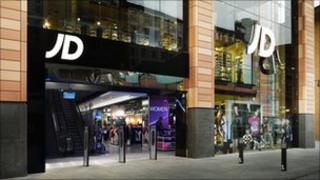 Sports retailer JD Sports has said last month's riots led to £700,000 of its stock being looted, but says its full-year profits will not be damaged.
It said 16 stores were targeted in the disturbances, with six in London suffering "very significant thefts".
One store in London is still closed as fire damage is repaired but the rest of the stores were reopened by 21 August.
Profits for the six months to July rose 21% to £20.1m, while sales, leaving aside new stores, rose 3.3%.
Profit margins were squeezed by the impact of falling consumer confidence and the increase in VAT.
The company said the riots were not expected to have a lasting impact.
"We are currently working with our insurers on the subsequent claim, covering theft of stock, repair costs and business interruption," it said in a statement.
"We do not believe that the riots will have a material adverse impact on the out-turn for the current year."
But Peter Cowgill, the company's executive chairman, said the rest of the year could be challenging.
"The result for the full year remains very dependent on the sales and margin performance in December and January."