SEC lawyer faces criminal investigation over Madoff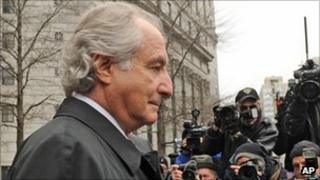 A leading lawyer at the US Securities and Exchange Commission who worked on the Bernard Madoff fraud case is facing criminal investigation.
David Becker, former general counsel at the regulator, is to be investigated to establish if he had a conflict of interest when dealing with legal matters relating to Madoff.
Mr Becker received an inheritance that included $2m (£1.3m) of Madoff funds.
He worked closely on the compensation policy for Madoff's victims.
In a report by SEC Inspector General David Kotz, it was found that Mr Becker had "participated personally and substantially in particular matters in which he had a personal financial interest by virtue of his inheritance".
It went on to say that "the matters on which he advised could have directly impacted his financial position".
Mr Becker worked directly on policy relating to how victims of the Madoff $65bn (£41bn) Ponzi scheme should be compensated.
Mr Kotz's report said that Mr Becker had made the case for valuing claims in a way that could have restricted powers to claw back money from Madoff beneficiaries, of which he was one.
Mr Becker received from his mother money that included Madoff funds.
SEC Chairman Mary Schapiro has said that she wishes with hindsight that Mr Becker had recused himself from the case.
In a statement, Ms Schapiro said that she took the report, which was published today, "very seriously".
But she added that "it would be inappropriate for me to comment on the Inspector General's referral to the Department of Justice".
William Baker, an attorney for Mr Becker, said the report confirmed his client had notified at least seven senior officials about his mother's account, and that he fully disclosed everything.
The report will be the subject of a US House of Representatives hearing on Thursday.
Mr Becker left the SEC earlier this year.