Airlines profits to drop 29% in 2012, global body says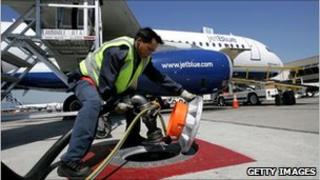 Profits at airlines will drop by almost a third next year, according to a global airline body.
The International Air Transport Association said the industry's earnings will likely fall to $4.9bn (£3.1bn) in 2012, from $6.9bn this year.
Since it expects revenues to increase, this is mainly due to rising costs.
IATA said profits for European carriers wil drop by 80% to $300m as the debt crisis saps demand.
The forecast for this year, of $6.9bn, is higher than it predicted in June, when it said it expected $4bn for 2011.
"Why are we doing better than previously expected? It's about travel volumes," chief executive Tony Tyler said.
"Despite the economic doom and gloom, people are travelling."
In the seven months to July, passenger volumes were up 6.4% over the previous year, but cargo was hardly changed as world trade stalled.