Siemens 'withdraws 500m euros from French bank'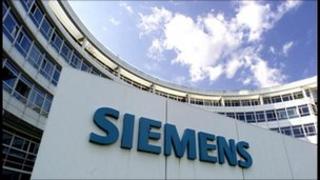 German industrial firm Siemens has withdrawn 500m euros (£436m) from a French bank and put it in the European Central Bank, according to reports.
According to the Financial Times, it withdrew the cash over concerns about the unnamed bank's stability.
It was also reportedly drawn to the higher rate of interest at the ECB.
Siemens has deposited about 6bn euros in the ECB, in one-week deposits, giving it the option to withdraw the cash with seven days' notice.
Banking licence
Last year, Siemens filed a request with regulators for a banking licence to help it expand financial services.
It is one of a limited number of companies that have a banking licence which allows them to deposit cash directly with the ECB.
The claims add to mounting fears of the impact of the eurozone debt crisis on confidence in the region's banks.
The report comes a week after Moody's downgraded French banks Societe Generale and Credit Agricole over their exposure to Greek debt.
French banks are the most exposed to Greek sovereign debt, with banks seeing large falls in their share prices over their commitments.
Siemens declined to comment.