UBS board to meet in Singapore in wake of $2.3bn loss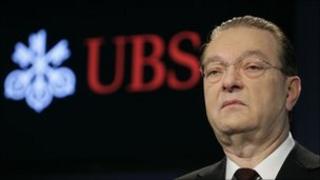 UBS, the Swiss bank caught up in a $2.3bn (£1.5bn) rogue trading scandal, will be holding a board meeting in Singapore on Wednesday and Thursday.
The board is likely to review the bank's processes that failed to prevent the loss amid increasing pressure from investors and regulators.
There have been calls for the bank to split its investment banking arm from other operations.
UBS is the world's largest wealth management bank.
UBS confirmed to the BBC that a two-day meeting will be taking place, but refused to comment on the exact date or the agenda.
Restructuring?
However, there is growing speculation that UBS will be discussing management processes in the wake of the loss.
Last month the bank announced 3,500 job cuts and there are fears that the fresh losses will lead to a major overhaul of the business, involving thousands more job losses.
The bank has already set up an independent committee to investigate unauthorised trading activities.
The meeting is being held in the home of the bank's biggest shareholders.
Singaporean sovereign wealth fund Government Investment Corp (GIC) said that it still supports the bank despite the situation.
"GIC expressed disappointment and concern at the lapses and urged UBS to take firm action to restore confidence in the bank," the fund said.
"GIC's view of UBS' fundamental strength as a well-capitalised bank with a strong private wealth management franchise remains unchanged."
'Responsibility'
Some analysts believe that the latest developments could see some of the biggest names in the bank leave.
"Regulation clearly states that risk management is the responsibility of senior management," said Jerome Lussan of investment management consultancy Laven Partners.
"The real problem is that risk management is seen as a cost and is not respected in the typically impatient bonus-hungry culture," he added.
However, despite increasing pressure for him to step down, UBS boss Oswald Gruebel has told a Swiss newspaper that he will not resign over the incident.