Ginetta owner relishes high-octane business career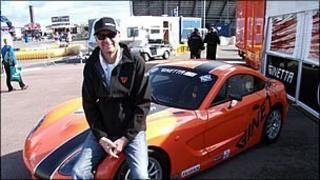 Businessman Lawrence Tomlinson has amassed a £500m fortune through decades of shrewd development of his care home, chemicals, computers and construction firms.
So, at the age of 47 and with four children, he could be forgiven if he now wanted to put his feet up and enjoy the fruits of his labours.
However, not only does the Yorkshireman remain fully committed to his businesses, but at weekends you can find him at the centre of another of his firms - Ginetta cars.
The firm makes racing cars which take part in three different Ginetta competitions at circuits in England and Scotland.
Its racing championships are seen as a way for promising drivers to move up the motorsport ladder to Formula 3 or even F1.
In addition, the firm produces high-performance road cars in limited numbers for those who can afford them.
Engineering background
Mr Tomlinson bought Ginetta in 2005 and is active in representing the marque at motor-racing meetings across the country, not to mention taking a hands-on role in developing new models.
As we sit in one of the huge orange trailer-cum-car transporters that is used to ferry Ginetta's distinctive showcars around the country, he pauses to listen to an engine being tuned outside.
"Sounds like one of ours," he says, betraying his degree background in mechanical engineering, as he picks out the Ginetta roar among the different car types being tuned at the Rockingham racing circuit in Northamptonshire.
Ginetta's three championships are the Challenge event for its G40 cars, the Junior event for 14 to 16-year-olds, and the Supercup for the firm's G50 and G55 cars.
'Right product'
Mr Tomlinson is the founding chairman of the LNT Group, which employs 1,500 people. He says the Ginetta cars arm is as important as his other business sectors.
"It is not a hobby business, it is the same as all my other businesses - it is about the proposition for clients," he says.
"It is about producing the right product at the right price. We make money on everything we make."
The company sells about 80% of its cars in the UK, and the remainder in nations as diverse as Australia, Brazil, Japan, Kuwait, Singapore, Italy, Switzerland and Germany.
Despite this overseas interest, Mr Tomlinson does not construct more than a few hundred cars a year.
"I have no interest in being some sort of global tycoon, but to be successful in my own space."
Large loan
Mr Tomlinson says that he is in a useful position in that, although he is a trained engineer, he is also a businessman, which helps when new Ginetta cars are being developed.
"Engineers always want to make a car better, but the commercial part of me realises we have to stop at some point and say 'let's make it now'."
His path into the business world came when he took over the running of a care home that his mother and father, who was in haulage, had purchased.
He looked to expand the business, which involved taking out a very large loan of £526,000 in 1987 at the age of 23, a sum equivalent to more than £1m today.
Since then his business interests have expanded, including into the building of new care homes.
"I really enjoy the care home business, it probably gives me most satisfaction," he says, before surveying his other firms.
"It is pretty rough and tumble at the moment in construction," he says.
"However when things go quiet in construction in the winter, things get busier at LNT Solutions, which is about a very specific chemical, de-icer.
"The de-icer does very well for us, and we sell it to train firms and to the airline industry - in fact, we have a new runway de-icer that we have just developed."
Constant investment
However, he admits that compared to his more mainstream business interests Ginetta is more capital-intensive over a longer period.
"But it will make money as long as cars stay in production, and we keep developing new cars," he adds.
He says a car like the Ginetta G50 will have a lifespan of about six years.
"We are always having to invest in product," he says. "It is a serious, serious business."
The Ginetta company does not race a team in the championships which bears its name, but sells cars to motoring teams which race its vehicles.
"With everyone using the same car it makes for very even racing - it is a great formula for people to learn and then to move up in the sport," Mr Tomlinson says.
Mr Tomlinson took up racing himself eight years ago and won the Le Mans 24-hour race in 2006 in the GT class, driving a Panoz car.
In fact, so seriously does he take his racing, that later in the Ginetta tent he declines to take a slice of bread with his soup, adding: "No carbs for me - I have to watch my weight.
"It is so physically strenuous when you are driving, the braking and turning is very demanding on you.
"And of course at somewhere like Le Mans you are at the wheel for eight hours."
At this point into the tent wanders former Formula 1 champion Damon Hill to have a chat with Mr Tomlinson.
The 1996 world champion opened the new Ginetta factory, and his son Josh - who currently competes in Formula Renault - took part in and won the Ginetta Junior Winter Series.
And soon the pair are in deep conversation about the technicalities of racing engines.
'Encouraging young talent'
The Ginetta races often feature on television, as part of a support package for the British touring car championship/Formula 3 event days, as was the case with the recent weekend of racing at Rockingham.
The junior event is seen a way for youngsters to progress from karting, and, it is hoped, to go on to bigger things in motorsport.
The firm also runs a youth scholarship programme, which offers a youngster the chance to drive a Ginetta car for a season.
"You get people who are successful in business, but then come into sport and don't seem to do so well, I don't know why that is," he observes.
"I take the approach that it is impossible for me not to look at Ginetta as a business.
"But on the track I also like to think that we are developing the future Jenson Button or Lewis Hamilton, and encouraging the next British racing talent."