Greece says debt talks to avert default 'productive'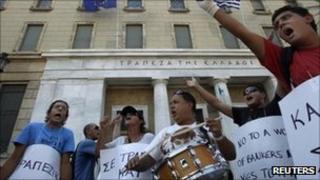 Greece says it has held "productive and substantive" talks with its debt inspectors aimed at deciding if Athens should get more bailout money.
Discussions between Greece, the International Monetary Fund and European authorities will resume on Tuesday.
No further details of Monday's three-hours talks were made public.
Global markets tumbled on Monday amid fears Greece will default and a call from the IMF for deeper spending cuts.
Monday evening's teleconference was between the Deputy Prime Minister and Minister of Finance, Mr Evangelos Venizelos, and senior representatives of the Troika - the name for the European Central Bank, European Commission, and IMF.
There is concern among Greece's international creditors that it is not doing enough to get its spending under control and to warrant the next 8bn-euro (£7bn; $11bn) instalment of its rescue loan.
On Monday the IMF told Greece it needs better tax collection and deeper spending cuts, not higher taxes, to avert a debt default.
Fears that Greece will default and send shockwaves through the global economy saw stock markets tumble, and the euro fall and oil prices fall.
The FTSE 100 index closed down 2% and France's Cac fell 3%. On Wall Street the Dow Jones recovered from earlier heavy losses to end 0.9% lower.
Athens needs the next tranche of bailout aid by next month to avoid defaulting on its debt.
The loan comes with the condition that Greece dramatically reduce its deficit, something that it plans to do by cutting the size of the state sector through redundancies, pay cuts and privatisations.
The IMF representative for Greece, Bob Traa, who is in Athens, said this was of crucial importance: "The public sector is very large. Another central element in our view must be to reduce public sector spending.
"This will inevitably require the closure of inefficient state entities as well as reductions in the excessively large public sector workforce and generous public sector wages, which in some cases are above those of the equivalent private sector workers."
Property tax
Greece is also proposing an emergency property tax, to be paid through household energy bills.
However, Mr Traa said this was not a good idea.
"In our view, you should not be drawn to higher and higher taxes on the limited tax base," he said. "This will neither be economically or politically sustainable."
He said a more efficient tax system would be more helpful and called for a "much stronger resolve to tackle the problem of tax evasion".
"Greece cannot achieve the consolidation through spending cuts alone.
"The increase in revenues... must come from improving collection rather than by increasing or by introducing new taxes."
The chairman of the Athens Chamber of Commerce, Constantine Michalos, said the danger from new taxes could be social breakdown.
"In periods of recession the imposition of new taxes aggravates and increases unemployment, and if we reach the 20% unemployment level then economically there is an imminent risk that social cohesion will explode," he said.
European finance ministers also told Greece last week that they doubted the property tax would be successful and that more cuts would be more effective.
According to an apparent email to the Greek government and published by an Athens newspaper, the Troika of the EU, European Central Bank and IMF have listed 15 measures to be implemented.
These includes demands that Greece make 100,000 employees in state-controlled companies redundant, which is 20,000 more than previously planned.
The continuing crisis has again unsettled financial markets, with share markets in Europe and the US down by more than 2% on Monday.
Earlier, Mr Venizelos said European and international institutions were using Greece as a "scapegoat" to "hide their own lack of competence to manage the crisis".
In a statement, Mr Venizelos also said that Greece had been "blackmailed and humiliated".
He said that to stop this situation, the country had to move ahead with its deficit reduction work so it could meet its financial targets.
Mr Venizelos said: "If we want to stabilise the situation... we have to make three large strategic decisions as part of our national strategy."
The three strategic decisions he highlighted were:
Greece achieving its 2011 and 2012 fiscal targets
Achieve annual budget surpluses "as soon as possible"
Carry out structural changes to allow Greece to become more competitive and productive
'Negative stereotype'
The EU and IMF agreed 110bn euros of bailout funds for Greece in May last year.
A further 109bn euros was provisionally agreed in July this year, but this still needs ratifying by a number of parliaments in eurozone member states.
On Sunday, the Greek government held cabinet crisis talks over what new austerity measures to put in place to help secure its next EU-IMF loan instalment.
It had been due to get the go-ahead to receive 8bn euros this month, but eurozone leaders delayed the decision until October following concerns that Greece was not doing enough to reduce its spending.