English football 'must reform finances and governance'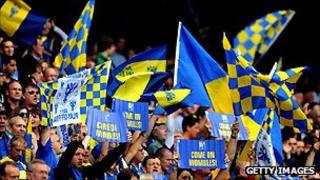 A member of a parliamentary inquiry into how football in England is run has called again for the government and sport's authorities to change the way the game operates.
Damian Collins MP is a member of the Commons' committee which has said that the sport's finances need revamping.
He urged the adoption of proposals MPs made this summer after taking evidence from industry figures.
"We feel very strongly that no change is not an option," Mr Collins said.
Supporters' trusts
"There is a big public interest in this, and frustration, as since the 1960s there has been a long line of reports made [into football]," he said.
"We are now waiting for the government's response to our report, which should be made by the end of September," said the Conservative MP for Folkestone and Hythe.
"We think there are things the government could take up."
Among them he believed legislation could be passed to bring about a restructuring of the Football Association.
And he said Treasury rules that created "artificial barriers" to the formation of fans' trusts to take over the running of clubs, needed to be reformed.
AFC Wimbledon, who entered the Football League this summer, nine years after being formed, are cited as one example of a successful trust, with the club being run totally by its supporters.
Debt levels
Mr Collins said some English football clubs had been jettisoning some of their financial obligations in order to keep on investing in players, as a way for the team to keep playing at as high a level of football as possible.
That in turn, clubs hoped, might bring in further investment.
However, Mr Collins said it was therefore not surprising that many clubs were unable to balance their books and had ended up with unsustainable levels of debt.
Among the major financial and structural recommendations the Commons' Culture Media and Sport Committee made, and wants adopted, are:
the introduction of a strong and formal club licensing model in English football
the introduction of a rigorous fit and proper persons test for club owners and directors
the abolition of the football creditors rule (which sees footballers and football clubs paid what they are owed first if a club goes into administration)
changes to the law to recognise the special nature of supporters' trusts, and to make fund raising easier for these trusts
for the FA to review and improve grass roots football spending, and to raise the level of coaching
for the FA to review the structure of its board and council
Investment 'bedrock'
"Financial sustainability is a big issue in the game," Mr Collins told a meeting organised by Birkbeck College's sport business centre in London.
"There is a good way and a bad way to invest. The bad way is to spend on players you can't afford for a short period of time in order to achieve success.
"However if the backer or investor pulls out, then there is a quick collapse."
He added: "But it is good to invest in grounds, facilities, and youth academies.
"We want to encourage that, something which gives clubs a bedrock from which to move on."
Mr Collins hit the headlines earlier this year when he used parliamentary privilege to allege that two Fifa executive members had been bribed to vote for Qatar as World Cup hosts for 2022.
He has been a trenchant critic of football's global governing body.