Comet electrical store revenues crash 22%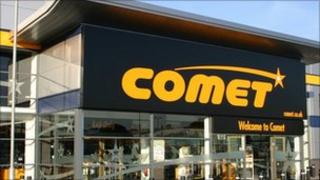 Revenues at Comet electrical stores have fallen 22% in the last three months, owner Kesa has confirmed.
The French parent company blamed weak trading and a tough benchmark as sales were boosted a year ago by the World Cup.
Trading also slumped at the firm's non-UK businesses, although market share and profit margins improved.
Kesa's chief executive said a decision would be made by Christmas about whether to dispose of Comet.
"We announced at our full-year results in June that in parallel to a turnaround plan at Comet, we'd assess other strategic alternatives," said Thierry Falque-Pierrotin. "The process is ongoing."
Kesa said in its results that the weak performance at Comet was anticipated and its turnaround plan was delivering results.
Shares in the parent firm - which are jointly listed in London and Paris - fell 3.6% in morning trading to a 32-month low, but later rallied back strongly.
'Adapting plans'
A shift towards more profitable products had boosted gross profit margins at its UK subsidiary by 0.8% of revenues, the firm said.
Kesa also claimed that Comet sales had shown "an improving trend through the quarter".
"The start of the year has been tough against the strong World Cup comparatives of last year and weakening market conditions," said Mr Falque-Pierrotin.
"We will continue to implement our strategy of growing a cross-Channel, service-led, specialist model, adapting our plans to meet an increasingly challenging market environment."
The poor results follows a 6.8% slump in sales at Comet revealed in June, pushing the UK electricals business into a 10m-euro (£9m) loss.
International downturn
Kesa is thought to be considering eventually selling off its loss-making UK business, with any sale expected to involve the closure of some of Comet's 250 stores.
The parent company has already confirmed the closure of 17 Comet stores and "right-sizing" of a further nine in the next three years.
Business has also weakened in Kesa's other markets, reflecting a widespread slowdown in economic growth over the summer.
Revenues at its flagship French unit, Darty, fell 2.6% compared with a year ago - a reversal of the 5% rise in sales reported in June. Revenues also shrank in its other established and developing markets.
Despite this, Kesa said it had seen "strong market share gains in France, Belgium and Turkey".