Belarusian rouble falls sharply in value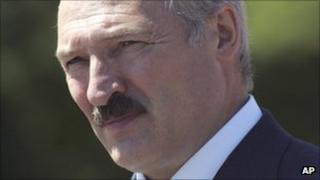 The Belarusian currency has fallen sharply in value after the government allowed a limited flotation in its latest bid to ease the country's worsening financial crisis.
The currency weakened to 8,600 roubles against the dollar, compared with the official rate of 5,347.
It comes as the government aims to make the country's exports more competitive and gain more foreign currency.
It is the second time since May that the rouble has been allowed to devalue.
However, the official rate will remain in use for certain transactions, such as state-owned factories and other businesses needing to buy imported materials.
Loan request
The Belarusian economy has weakened sharply in recent years, worsened by a big increase in government spending in 2010 ahead of presidential elections.
President Alexander Lukashenko won the elections to secure a fourth term in office, but international monitors said the vote was rigged, and the US and Europe have imposed sanctions on the Belarus leadership.
The US has described Mr Lukashenko as "Europe's last dictator".
When the rouble was last devalued in May, it sparked a number of public protests.
It also helped fuel inflation of more than 40%, and many shops were emptied of goods as importers lacked hard currency to purchase foreign goods.
Belarus' trade deficit stood at $9.3bn (£5.6bn) last year, according to the International Monetary Fund (IMF).
The IMF is now continuing to consider whether to grant the country's request for a $8bn emergency loan.
It has said that it will be dependent on Belarus carrying out a number of economic reforms including a privatisation programme.
However, the government has so far been reluctant to break up the predominantly state-run economy.
Belarus has been more successful in securing loans from a group of ex-Soviet nations, led by Russia. In June, it gained the first payment of a $3bn package.