Bank of England's Adam Posen calls for credit boost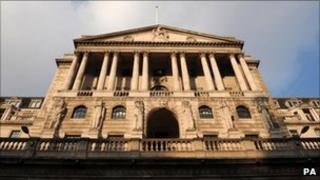 Adam Posen, a member of the Bank of England's interest rate-setting committee, has said the UK economy needs an instant credit boost.
In a speech on Tuesday, he said the Bank should help the government to set up and fund a new bank to boost lending to small and medium-sized businesses.
Mr Posen is the only Monetary Policy Committee (MPC) member to call consistently for more stimulus.
Consumer Prices Index inflation went up to 4.5% in August, new figures show.
Some members of the MPC argue that, with inflation so far above the Bank's target rate of 2%, it would be unwise to release more money into the economy.
The majority believe rates should stay as they are, while inflation gradually eases helped by a weak economy.
Falling growth
But Mr Posen thinks the real danger lies with the flagging economy, which he thinks will not recover unless more is done.
Policymakers have come under increased pressure after Chancellor George Osborne admitted last week that the economy had slowed and that short-term hopes for growth had been revised down in recent weeks.
The latest official data showed the economy grew by 0.2% between April and June, down from 0.5% in the first three months of the year.
As well as keeping interest rates at a record low of 0.5% since March 2009, the Bank has previously tried to boost growth by injecting £200bn ($280bn) into the economy in the form of quantitative easing (QE).
Adam Posen said the Bank should resume this, with another £50bn of gilt purchases over the next three months.
"Unfortunately, the underlying economic situation in the UK and throughout the G7 is that serious," he said in his speech at Wotton-under-Edge, in south-west England.
"That central banks have failed to take sufficient additional stimulative action over the last year has made the prospects worse. Recent developments both across the Channel and across the Atlantic, even if largely foreseeable, may make things much worse in turn, especially since that would mean a simultaneous contraction in much of the advanced world," he said.
He said the government should set up two new public institutions to address the investment gap by increasing credit, something existing banks say they have available but small businesses say they cannot get hold of.
Mr Posen proposed two institutions: a public bank or authority for lending to small business and an organisation which would package loans made to small and medium-sized businesses.
He suggested calling this Bennie (British Enterprise Investment Equity).