Tata Motors chief Carl-Peter Forster resigns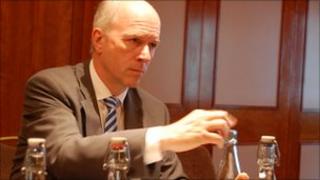 Carl-Peter Forster, the chief executive of Jaguar Land Rover's (JLR) owner Tata Motors, has resigned with immediate effect.
Mr Forster's sudden departure was due to "unavoidable personal circumstances", Tata said.
Mr Forster's 18-month leadership saw JLR return to the black.
Both Jaguar and Land Rover are now launching a number of new models, backed by a £5bn ($8bn) investment plan.
JLR contributes about 80% of Tata Motors' profits.
"This is a bad development," said Vineet Hetamasaria, motoring analyst with brokerage PINC Research.
"When the overall market condition is so difficult, a change in leadership could have been avoided."
Selling Nano
The new chief executive's first challenge will be to bolster sales of Tata Motors' Nano, launched as the world's cheapest car in March 2009.
The Nano has not been as popular as the carmaker had hoped.
"They are not making much money on Nano," said Mads Kaiser, portfolio manager with JI India Equity Fund, which owns Tata Motors shares.
"It's a very difficult segment for them."
Deep regrets
Mr Forster will remain a non-executive member of the Tata Motors board.
"I am glad to continue my association with Tata Motors," he said.
"I deeply regret that my personal circumstances make it difficult for me to continue to perform the challenging duties of managing the thriving global activities of the Tata Motors Group with its main activities in India and the UK and increasingly in additional overseas markets," Mr Forster said in a statement.