OFT criticises heating oil websites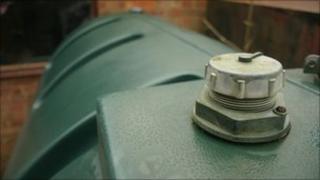 An investigation into websites comparing heating oil prices has identified failings including false testimonials and incomplete information.
Four million households in the UK are not connected to the mains gas grid.
The Office of Fair Trading (OFT) found that some of those using heating oil could have been misled by some websites.
It found these sites, which have now been changed, were not open enough about links to single suppliers while looking like independent price comparison services.
The OFT investigation found:
False customer testimonials on the fuelfighter.co.uk website run by WCF Fuels Ltd. These were made up to make it appear to be a price comparison website or look better, the OFT said
The boilerjuice.co.uk price comparison website failing to be clear about its links to parent company DCC plc, which owns the largest heating oil distributor in the UK, GB Oils Ltd
Changes were needed to the cheapheatingoil.co.uk website run by Johnston Oils Ltd
"Our investigation has aimed to ensure that any relationships between businesses supplying heating oil and websites are transparent and that the number of prices that have been compared by the website is stated prominently," said Clive Maxwell, of the OFT.
"It is important that people can genuinely shop around and make informed decisions about which suppliers to use. The changes that we have secured mean that people buying domestic heating oil will be better able to compare deals on offer."
Watchdog Consumer Focus said that heating oil customers were left with huge bills last winter after oil price spikes.
"We would urge anyone worried about the cost of heating oil to buy before winter kicks in to avoid paying peak prices," said Adam Scorer, from the watchdog.
"People can also cut the price they pay by getting a discount through buying with a group of neighbours, getting several quotes to find the best price, and finding out about grants and schemes which could make their homes more energy efficient."
Energy Minister Charles Hendry said: "It was an issue of great concern last winter that people could not get accurate comparisons of oil prices, and did not know which companies had a direct interest in the websites themselves.
"This decisive action will prevent people being misled and sends a clear signal that a fair and open market is essential for consumers to make informed decisions about which suppliers to use for the best price."