Frankfurt motor show: Carmakers fear sales might weaken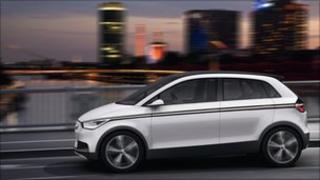 The world's leading carmakers will be showing off their latest models at the Frankfurt motor show this week.
The biennial show comes after a year of strong car sales that have helped revive the motor industry.
But the future seems less certain, not least since growth in car sales in China appears to be slowing.
Economic weakness and record debt levels in Europe and the US are also causing concerns.
"Even the German carmakers, that have enjoyed unprecedented financial and sales success so far in 2011, must be concerned about the storm clouds gathering over the global economy as a result of high public debt levels in the US and Eurozone," observed IHS Automotive analysts Tim Urquhart and Ian Fletcher in a note.
China's car market expanded some 30% during the 2010/11 fiscal year. That growth rate is now expected to slow to just 10-12% during this fiscal year.
The US and European markets are also expected to be soft in the months ahead, though as yet there is no talk of another recession.
"We don't want to bring about a crisis by talking about it, because we don't see one at the moment," said Friedrich Eichiner, BMW's chief financial officer.
Barclays Capital motoring analyst Michael Tyndall agreed.
"We're looking at slower growth and in Europe we're looking at some retrenchment in 2012, but nothing like the collapse we saw in 2008," he said.
Smaller cars
At the time, many carmakers cut back production and laid off workers, but most of them did all they could to maintain investment in future models.
Consequently, the current models that will be unveiled at this week's show are both smaller and more fuel efficient than the cars they were making before the downturn.
Harmful emission levels have also been cut, with most carmakers now offering electric or petrol-electric hybrid alternatives to cars powered by conventional petrol engines.
Many carmakers are unveiling models designed for large cities. Small sports utility vehicles are also popular at the moment.
"We expect new models and premieres at the Frankfurt motor show to play a key role in giving a boost to new orders," said Juergen Karpinski, owner of Autschmitt Frankfurt.