Australian wine seeks new markets amid falling sales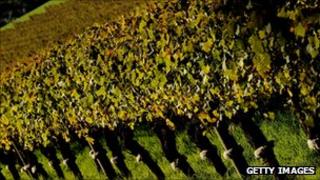 In the green foothills of the Brokenback mountain range in the Hunter Valley, the first buds of spring have begun to flower, but this is not likely to be a season of great cheer in one of Australia's oldest wine producing regions.
New figures show sales of Australian wine have fallen sharply as the industry faces its worst slowdown in a decade and a half.
Growers here talk of the "perfect storm" whipped up by a strong currency, oversupply and cautious consumers.
The slump will almost certainly be made worse by a bigger-than-expected harvest this year, which will add to an already bulging wine glut.
Worried shoppers are choosing to save rather than spend, and domestic wine sales have declined, while exports too have suffered.
The formidable Australian dollar that has sailed past parity with its American cousin is making local produce more expensive for drinkers overseas.
"I have never seen it like this before," explains Brian McGuigan, an indomitable industry veteran based in Pokolbin 160km (100 miles) north of Sydney, who began his winemaking adventure half a century ago.
"We had a period of up, up, up and away. During that period we developed lots of export markets and they were very successful for Australia.
"But we have been disadvantaged by our great mineral boom here which has pushed our dollar up and that has made it difficult for agricultural and manufactured products," he adds.
Price war
A short drive away through green hills and vineyards, Andrew Margan sits in the shade at his family-run business that has 50 sun-soaked acres of prestige vines near the small town of Broke.
He speaks of an industry of two distinct halves; one occupied by premium growers, the other by the mass producers that he accuses of driving down prices in the pursuit of quick profits.
"It is the parasites who are living off the industry and the bottom-feeders around the place who are making it impossible for us to sell wine at a reasonable price in a lot of markets," Mr Margan tells the BBC.
"It is the share-listed companies who make decisions for the whole of the industry. These people are after short-term returns. There's no such thing in the wine industry.
"It is a long-term industry. It has very little financial return considering the amount of cash that needs to go into it."
To prosper he believes Australia must focus on the middle to upper end of the market to shed its low-price reputation.
New frontiers
Last year this country produced a head-spinning 1.1 billion litres of wine.
The vast majority was exported and more was sold in Britain than anywhere else, followed by the United States.
But a rising Australian dollar is making those exports increasingly expensive. Sales in the UK are down by 6%, while the US market shrank by 19% in the past year. It's enough to make some producers retreat to the cellar.
But as traditional markets weaken a new frontier is attracting a growing band of Australian winemakers.
"We actually don't export to the UK or the USA. We know we can't compete there in terms of the price point and the volume required," says Christina Tulloch, general manager of Tulloch Wines in the Hunter Valley.
"To us Asia offers a number of opportunities, obviously a huge population. What we have in Asia that we don't have in the UK and USA is this preconceived notion that Australian wine is cheap and cheerful."
The latest figures suggest that just as Asian demand for natural resources has been Australia's economic salvation, it could also revive the wine trade.
Last year exports to China rose by 12%, while sales were up too in Japan, Hong Kong and Singapore.
Australia has some very wealthy - and thirsty - neighbours in the Asia-Pacific region and Prime Minister Julia Gillard also believes it is time to cash in on Asia's rapid development.
"What we're seeing in our economy is the result of global economic weight moving from west to east, to our region of the world," she told the Australian Broadcasting Corporation recently.
"That gives us huge opportunities through our resources boom and through the provision of services to a growing Asian region and a growing middle class."
The vintners of the Hunter valley and beyond will drink to that.