China's inflation rate moderated in August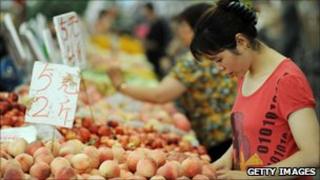 China's rate of inflation eased in August, after hitting a three-year high in July, according to the National Statistics Bureau.
Consumer prices in the world's second largest economy rose 6.2% from a year earlier, down from 6.5% in July.
Food prices have been the main reason for the rising costs in the country.
Separately, the Bureau said China's industrial output had risen 13.5% in August year-on-year, slightly down on growth in July.
Analysts said the inflation data seemed to indicate that government steps to slow the overheating economy were starting to take hold.
"The fall was the largest decline in inflation this year, and offers some hope that price growth, led by the surge in food prices, has peaked," said George Worthington of IFR Markets.
Monetary policy
Beijing has maintained that containing price growth is the government's top priority.
China's central bank has raised interest rates five times since October 2010 and increased the reserve ratio requirements for banks in the country nine times during the period.
That means banks have had to hold more cash in their reserves, effectively reducing the amount of loans being given out.
Analysts said the latest numbers may make the central bank change its stance on monetary policy.
"On the policy front, tightening steps are at least on hold now," said Dong Xian'an of Peking First Advisory.
IFR Markets' Mr Worthington added that Beijing may actually start easing its policies early next year, "provided inflation has fallen to around 5% or lower".
Broader concerns
While consumer prices fell in July, analysts said that authorities needed to do more to contain rising prices.
"The easing in consumer inflation was not broad-based in August. The main contribution is a moderation in pork price rises," said Ren Xianfang of IHS Global Insight.
Data released by the China Federation of Logistics and Purchasing last week showed that manufacturers were hit by the higher cost of raw materials in August.
The input price sub-index, a key measure of how much factories pay for raw materials, rose to 57.2 in August from 56.3 in July.
Analysts said that until price growth is contained across the board, inflation would remain a threat to the Chinese economy.
"China still faces pretty high inflationary pressures," Ms Ren added.
Other data released on Friday showed that retail sales jumped 17% in August, while fixed asset investment, a measure of government spending on infrastructure, rose 25% in the first eight months of 2011.