Frankfurt motor show: Car firms fighting back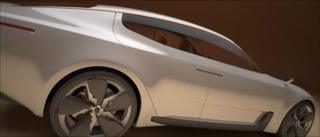 As this year's Frankfurt motor show gets under way, there are clear signs that the motor industry has come back fighting after a few difficult years.
Most of the major companies continued to invest in new products during the downturn, with most of them now offering smaller, more frugal models better suited to these austere times.
"The raft of exciting new models shows that there is no lack of creativity and vibrancy in the global industry at the moment," observe IHS Automotive analysts Tim Urquhart and Ian Fletcher in a note.
Frankfurt is first and foremost a showground for German carmakers, who take this show very seriously.
Volkswagen Group, Europe's largest carmaker, will kick-start the razzmatazz on Monday night with the launch of a range of new models from its nine marques that range from folksy Seat and Skoda to ultra-luxurious Bentley and Bugatti.
The VW marque leads the way with the launch of the Up!, a tiny city car that is expected to rack up sales of 300,000 per year, rising to 600,000 once sister-marques Seat and Skoda get their rebadged versions. Volkswagen's upmarket subsidiary Audi will unveil a string of prototypes too, including a lightweight urban warrior as well as a reborn A2, both tiny and both electric.
Vauxhall/Opel is also showing off a two-seater electric prototype that the company says "could revolutionise urban transport, especially for younger drivers and those on a very tight budget". While Ford's gull-winged Evos concept shows how Ford of Europe leads the way within the US automotive giant in terms of design.
The small electric car theme is picked up by BMW, which will unveil its i3 and i8 carbon fibre vehicles, while Mercedes will make its mark with a new B-class model with front-wheel-drive technology that will be used for several small cars set to be launched in the years ahead.
"The premium carmakers are gradually expanding their ranges in smaller segments in order to generate volume and win customers early," explain Mr Urquhart and Mr Fletcher.
Korean rivals
South Korean carmakers Kia and Hyundai are also treating the Frankfurt show as a home match these days.
The sister companies have both established design centres here in recent years to make sure their cars appeal to European taste.
Kia's design director Peter Schreyer has come up with a mid-size prototype that suggests the carmaker is getting ready to make more boldly designed cars after years of focusing on quality rather than eye catching looks.
Hyundai, meanwhile, will show off its new i3, a medium-sized car that is central to its plan to bolster its European market share well beyond the 3% it expects to achieve this year.
British icons
The British are also turning up with some eye-catching metal.
Mini is unveiling its first two-seater car, a coupe, Land Rover is showing a new Defender prototype and Jaguar displays a car it describes as "the spiritual successor to the E-type".
There is even a new company at the show, Eternity Motors, which will reveal a 4x4 sports utility vehicle (SUV) that will be hand-built in London.
French sister marques Peugeot and Citroen are here with production-ready diesel-electric hybrids, the 3008 Hybrid4 and the DS5, having defied sceptics who in the past used to pooh-pooh the diesel and electric motor combination as far too expensive. Volvo, another believer in the idea, wants its diesel-electric hybrid to come with an electric plug.
Renault is giving its Twingo a facelift, while Fiat has come up with an all-new Panda that will compete with VW's Up!.
Fiat-subsidiary Maserati is unveiling an SUV based on US partner Chrysler's Jeep Grand Cherokee, marking the start of the Italian and US carmakers' plan to sell rebadged and re-engineered versions of their models on both sides of the Atlantic.
Rebuilding Japan
Japanese carmakers are still struggling to get back on their feet in the wake of last March's tsunami, earthquake and nuclear disaster, though they are nevertheless unveiling some important models.
Toyota's new Hilux pick-up truck will be on show here, and the working vehicle will no doubt become a frequent sight during the rebuilding of Japan.
Honda unveils its new Civic that will build on the sales success of its many predecessors. Subaru is entering cross-over territory with its XV, as is Mazda with a small SUV, the CX-5.
Mazda's new model is important in that it marks the start of a complete brand overhaul that involves a radically different design language and the replacement of its entire model range.
Nissan is not at the show, though its luxury subsidiary Infiniti is here with its powerful Etherea concept car - a sign, perhaps, that Japan's carmakers are still flexing their muscles.