Fitch warns over China local government debt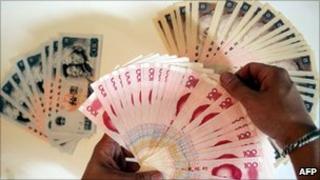 Bad debts held by local governments in China are raising worries over its banks, ratings agency Fitch has warned.
In June, Beijing said that local governments had piled up 10.7tn yuan ($1.6tn) in debt, or the equivalent of 25% of China's annual economic output.
The debts were built up to fund public works, which were supposed to be funded by the central government before the financial crisis struck.
Concerns have been growing over bad debt in China.
"Credit risk has risen from an over-extension of loans to local governments and property - both of which have questionable medium-term repayment capacity," Fitch's senior director Jonathan Lee said.
Rival agency Moody's expressed similar concerns in July, saying that the debt burden held by local government could be 3.5tn yuan larger than auditors had estimated.
It warned that bad debt could reach between 8% and 10% of the total loans.
Both Fitch and Moody's also complained that a lack of transparency at Chinese banks may affect its future creditworthiness.
"Disclosure is very poor," Mr Lee said, "which means that unwinding products in the event of default could get very messy."