OECD warns that global economy is slowing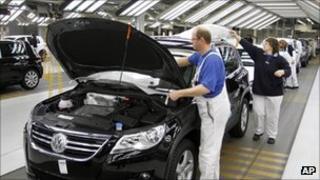 Major economies are likely to slow by the end of the year, the Organisation for Economic Co-operation and Development (OECD) has warned.
The OECD expects 0.3% growth in the UK in the last three months of the year, but said the economy could contract by as much as 1% amid high uncertainty over its projections.
It predicts the Group of Seven largest economies will grow by just 0.2%.
The OECD said Germany could be most affected by a downturn in global trade.
It estimated the German economy would contract by 1.4% in the last quarter of 2011.
The OECD's GDP figures are both seasonally adjusted and account for inflation.
They also have a wide margin of error - for example, it said its German estimate may be out by up to 2.1 percentage points either way.
It said: "Consumer and business confidence fell in major OECD economies on the back of weak incoming data, gridlock over fiscal policy in the US, the euro area sovereign debt crisis and growing concern that there is less policy ammunition to offset further weaknesses."
'Less ammunition'
The OECD estimates that growth across the G7 will be 1.6% in July to September, falling to 0.2% in October to December.
While it predicts that economic output is set to fall in Germany in the October-to-December period due to weaker exports, it says the German economy should expand a strong 2.6% in July to September.
Explaining this third-quarter growth, the OECD said the German economy has been boosted by the resumption of nuclear power stations that were taken off-line following March's nuclear disaster in Japan.
Official German data on Thursday showed that the country's exports fell 1.8% in July, much more than expected.
For the US, the OECD predicts growth of 1.1% in the third quarter, slowing to 0.4% in the fourth.
Eurozone impact
The OECD added that the reason for the uncertainty surrounding its latest estimates was because the full impact of the continuing debt woes in the eurozone and resulting stock market volatility was not yet known.
Yet it added that "a downturn of the magnitude of 2008/09 is not foreseen".
The OECD called on central banks to maintain low interest rates and look at other ways to help economies.
It expects the French economy to continue to grow, but at a slowing rate.
It predicts France's economy will expand by 0.9% in the third quarter, falling back to 0.4% in the fourth.
For Italy, it estimates a contraction of 0.1% between July and September, but growth of 0.1% in the last three months of the year.
"The growth scenario looks much worse, one would say that growth is stagnating," said OECD chief economist Pier Carlo Padoan.
"We are witnessing a growth slowdown across OECD countries."