Food prices stay near record high, says UN agency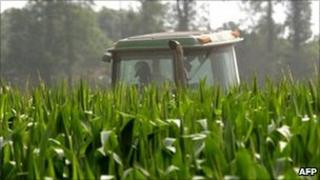 Global food prices remain near a record high, according to the UN Food and Agriculture Organization (FAO).
The index reached 231 points in August, up 26% from the same period last year. The index hit an all-time record of 238 points in February.
Cereal prices rose on anticipation of a shortfall in production this year, which is expected to be 6 million tonnes less than predicted in July.
The FAO's measure looks at a range of essential foods.
Those include cereals, oilseeds, dairy, meat and sugar.
Cereal prices have been affected by the situation in the US, the world's largest maize producer, as hot weather in July and August dampened maize crop prospects.
Wheat inventories are also likely to fall to their lowest level since 2009, the FAO said.
Of the major food staples, only rice stocks are expected to increase significantly due to a record production of 479 million tonnes expected this year.
High food prices - particularly those of wheat, rice and corn - have sparked civil unrest in a range of countries where people rely on them for the bulk of their food intake.
They were one of the factors that drove people on to the streets of Arab countries earlier this year.
A global food crisis in 2008 also triggered mass protests, including riots in some developing countries.