Public sector pensions: PCS union plans second strike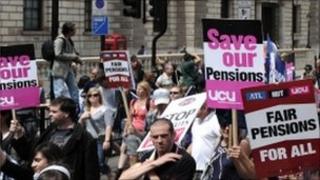 A union representing 280,000 civil service workers is to hold a second one-day national strike in November over public sector pension reform.
PCS general secretary Mark Serwotka said he hoped it would involve more unions than a previous strike in June.
He said talks with the government over pensions had been "shambolic".
The government, which wants staff to pay £1.1bn in extra contributions from April, said its meetings with unions would continue.
Chancellor George Osborne has said the proposals are a good deal because staff are "going to get one of the best pensions you can get in our country, but it is also fair to taxpayers".
'Targeted action'
The coalition also said pension contributions needed to rise as life expectancy continues to increase.
The changes prompted a one-day strike by the PCS and a number of teaching unions on 30 June.
Mr Serwotka said the strike in mid to late November would be followed by "hard-hitting targeted action" designed to maximise pressure on employers and government.
Earlier on Thursday, Prospect and the FDA, who represent 54,000 senior and professional civil service staff, had warned they may strike in November.
BBC industry correspondent John Moylan said: "In theory, over the summer, talks should have been progressing on the various public sector pension schemes targeted for reform.
"In practice, it's understood very little progress has been made so there's much to be done by the government's deadline of the end of October."
The government wanted agreements by then on rises in employee contributions and on what the redesigned public sector pensions will ultimately look like, he said.
Our correspondent added that the public sector unions believed that timetable was impossible - and were warning that any imposition of higher contributions next year while public sector workers still face a pay freeze would inevitably result in industrial action.
NHS workers, teachers and civil servants will have to pay extra money into their pensions as the government looks to shave £1.2bn off its pension bill next year.
Similar plans are in the offing for firefighters and the police, and possibly for local government staff as well.
The initial proposals affect 2.5 million people at first: NHS workers and teachers in England and Wales, and civil servants in England, Scotland and Wales.
The government said it had held "another constructive meeting" with the Trades Union Congress and there would be further talks later in the month.
A spokesperson added: "This government has made it clear it wants public service pensions to remain among the very best available, but people are living longer and that has substantially increased the cost to the taxpayer.
"Our proposals for pension reform will ensure that the pension individuals receive at retirement would be broadly as generous for low and middle income earners as it is now and the pensions people have already earned will be protected."