Unified communications: End of the line for the phone?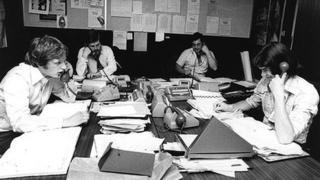 You're sitting in the office with a client on the phone, ready to make the deal of your career.
They are ready to invest heavily in a shipment of your new and improved flux capacitor - a sale equivalent to the GDP of a medium sized African nation.
If you can clinch this you'll be wearing a jet pack to fly up the greasy pole.
But the client wants to know if they can be delivered in three days - and he has to know now or he will go elsewhere. You need to find out if Bob in despatch can handle it.
But Bob isn't answering the phone and you don't know where he is, or who else may be able to help you.
Your dreams of early retirement on your yacht in the Caribbean slip away into the ether.
Is there anything that could have avoided this?
Well, if the hype is to be believed, unified communications (UC) may have saved the day.
Tech talk
Jargon like this can seem daunting to those uninitiated in the dark arts of IT and telephony.
But what it actually means is bringing together all of the communication tools you use on a daily basis - phone, email, messaging, even video conferencing and social media - and running them from a single platform.
This should allow you to see where your staff are, if they're available, if a colleague can help instead - in the office and also when they're on the move - all from one simple interface.
You can then choose how you contact staff and customers.
Dial it in
Lebara provides low-cost international telephone calls.
At their contact centre in the City of London they expect to handle around 5m calls over the next year.
UC and a niche contact centre package is crucial to their customer services says Rodney Sheriff, Lebara's head of customer service.
"We like to think of ourselves as best in class from a customer service perspective. "
They use technology provided by UC specialists Avaya. And having an integrated service means that the customer service centre is integrated with the back office operation.
"We can route customers calls to the best person to deal with their enquiries.
"We can leave messages for common-place queries so people can get fast access to that information, and if there is a problem it becomes very visible to us.
"The suite gives us instantaneous reporting so we can easily see that marketing, for example, have sent a message that's been misunderstood by our callers, we can see a spike in calls in literally seconds, and we can respond right away."
When agents aren't busy, they can be redirected to customer courtesy calls, through a sophisticated "blended dialer" system. Customers can give feedback on the experience, and Lebara are able to analyse call data to make sure they have enough agents serving each country they operate in.
Matt Kemp is head of operations for customer services and he says that contrary to expectations, the system is easy to use.
"One of the beauties of the system is that I can probably train anyone to record a message and put it on in 10 minutes."
"If we have a major issue we can get a message on there immediately."
Avaya's Nigel Moulton says this niche use of UC is just one of many.
"If you think about the different elements of UC, and you apply it to a business scenario here at Lebara, you have a front office and back office operation that need to be tightly integrated.
"If you have elements of the business that aren't integrated, you end up with an ineffective way of dealing with customers, and perhaps a cultural set-up within the company that doesn't allow you to be as flexible as you would like."
Mr Moulton believes that the principles of UC can be applied to most businesses.
"If you think about the average day for the knowledge worker in any organisation - the things they have to process on an average day - email, voicemail, team meetings, collaboration, messaging, all of these things are now pretty prevalent on every employees desktop and they also by and large exist on mobile phones.
"If you want teams to be as productive and collaborative as they can be then you need to give them a common set of tools and applications to use on a daily basis, and these should integrate as seamlessly as possible with their telephony systems and messaging systems."
The company's latest offering is the Avaya Flare user experience that can be used with an optional desktop video device. The plan is to roll this out to other devices such as tablets and mobiles.
Choices, choices
There are no shortage of UC options - Microsoft, Cisco and IBM are just some of the big names to choose from.
BT offers its own service, and also works with a range of UC providers.
"We think of ourselves as the great integrators," says Steve Masters, head of global unified communications.
For him, collaboration is the key benefit of a UC system.
"[It's really about] bringing your organisation far closer together, the ability to then extend that externally and have greater communications and collaboration with your partners."
He acknowledges that cost can be a big consideration for smaller businesses.
"[That] market and the corporate markets are very different.
"They're diametrically opposed almost. The corporate world views UC as a way of saving money, because there will be so much cost involved in running all these disparate systems."
For a big multinational one factor is being able to move away from using the different technologies provided in different countries by telecoms providers.
"It's not unknown for organisations to have voicemail systems in the hundreds across their organisations.
"So there there's a need to move to a UC one to get better collaboration in the organisation but also to drive cost down in the business.
Mr Masters says that for a small single office operation however, the costs could be prohibitive with limited return on that investment.
He sees video as the next big growth area for the market.
"The analysts are all predicting great things for video over the next three years.
"When people are working remotely you can really enrich the dynamics of a remote meeting through having video."
Changing minds
Duncan Clark is UC specialist with analysts Canalys. He says although UC is nothing new, consumerisation - the drive from people inside companies to have technology that mirrors what they use at home - is changing perspectives.
"I guess people think of consumerisation in terms of people bringing in their own devices or going on the internet and using their own tools, I think it runs much deeper than that it's actually the whole experience that people expect from their workplace that
"I think that's what's changed, and what's really changing the focus, making UC more marketable to a wider audience."
For companies considering adopting the technology, he says that cost doesn't have to be a barrier.
"The beauty of UC is that it's not necessary that you take the whole package, and I think that's the thing that gets misunderstood.
"You don't have to implement everything, it's about saying what tools do I need to make the business work."
"The reality is UC can make a huge difference but it's something that's difficult to measure in real terms."
But he does have a few words of warning.
"The key thing for businesses is to really get the background information. I think there's a severe lack of understanding about what the different aspects of UC will actually bring to your business.
"For example, you may think that video conferencing will bring benefits, but when you actually deploy it you find people aren't using it.
"You need to look at what specific solution you choose, and how you implement it and use it in the business."