Greece 'to speed up cost-cutting work'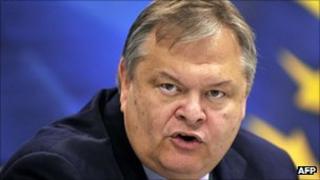 The Greek finance minister has pledged to speed up reforms to cut public spending and reduce the size of the state, saying his privatisation plans will start "immediately".
Evangelos Venizelos said some state assets would be transferred to a special fund ahead of their later sale.
The reforms are expected to lead to tens of thousands of job cuts from the Greek state sector.
The announcement lifted the Athens stock market by 8% on Wednesday.
The privatisations aim to raise 5bn euros ($7bn; £4.4bn) this year to help Greece cut spending to try to reduce its vast public debts.
The country required a 110bn euros bailout from the European Union (EU) and International Monetary Fund (IMF) in May last year, and a second 109bn euros deal was agreed in July.
Greece is receiving the money in instalments, and is awaiting another 8bn euros later this month - as long as it can demonstrate it has met set fiscal targets.
The EU and IMF left a critical audit of Greek finances unfinished last week, saying more budget work was needed.
No certainty
Mr Venizelos' action on reforms follow accusations by fellow European politicians that the Greek's have been dragging their feet over plugging the gap between spending and income.
The chairman of the eurozone group of ministers, Jean-Claude Juncker, warned on Wednesday that Greece cannot assume it will get its next slice of emergency funding without making good its promise to sort out its finances.
He said: "If not, it cannot be taken for granted that the next disbursement will take place."
Mr Venizelos said Greece faced steep challenges but it would surmount these: "Greece is not the pariah of the European Union, it is not a permanent sore and problem.
"It is an equal, competitive country that has a very serious problem regarding its public debt and fiscal deficit.
"We can and shall overcome this, but not without carrying out the structural reforms in full."
Greece's government debt totals 142.8% of the country's annual economic output.