US drops to fifth in WEF global competitiveness ranking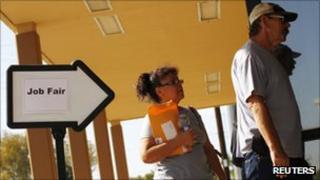 The US economy has declined in an annual study of global competitiveness for the third year in a row, falling from fourth place to fifth.
The World Economic Forum says economic problems, falling trust in its politicians and government inefficiency contributed to its fall.
Switzerland topped the table, followed by Singapore and then Sweden. Finland jumped from seventh to fourth.
The survey is compiled using public data as well as executive opinion.
The WEF says the report is designed to identify advantages and impediments to national growth in order to offer a benchmarking tool to both the public and private sectors as well as others.
Northern and Western Europe dominate the top 10, with Japan, in ninth place, the only other Asian economy among the leaders.
The UK has moved up to 10th place from 12th last year.
Germany was ranked at sixth place, the second-highest in the eurozone behind Finland.
France fell three places to 18th, while deficit-battling Greece was placed 90th out of 142.
Little headway for China
Although the report pointed to the shift in fortunes from developed countries to developing, saying that competitiveness in advanced economies has stagnated over the seven years since the WEF began compiling it, emerging markets made little headway up the rankings.
China, the world's second biggest economy, only ranked in 26th place for competitiveness.
Among the other leading emerging markets of Brazil, India and Russia, none were in the top 50.
Klaus Schwab, founder and executive chairman of the WEF, said the survey had discovered a glimmer of hope for the global economy: "After a number of difficult years, a recovery from the economic crisis is tentatively emerging, although it has been very unequally distributed: much of the developing world is still seeing relatively strong growth, despite some risk of overheating."
However, he went on to say that widespread problems persisted: "Most advanced economies continue to experience sluggish recovery, persistent unemployment and financial vulnerability, with no clear horizon for improvement."
The report uses 12 categories to assess a country's ranking: institutions, infrastructure, macroeconomic environment, health and primary education, higher education and training, goods market efficiency, labour market efficiency, financial market development, technological readiness, market size, business sophistication and innovation.