ASA probes TripAdvisor's reviews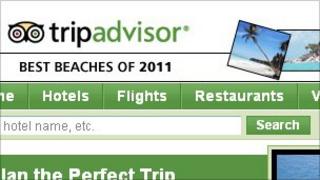 The authenticity of reviews on the TripAdvisor website is going to be investigated by the Advertising Standards Authority (ASA).
A firm called KwikChex suggests that between five million and 10 million reviews on TripAdvisor could be fake.
TripAdvisor specialises in letting customers post reviews of hotels, holidays and restaurants and has 45 million visitors each month.
The ASA said it would publish its findings "in due course".
"The Advertising Standards Authority has received a complaint from KwikChex about a claim on TripAdvisor's website," said an ASA spokesman.
"KwikChex has challenged whether the claims 'reviews you can trust', 'read reviews from real travellers', 'TripAdvisor offers trusted advice from real travellers' and 'more than 50 million honest travel reviews and opinions from real travellers around the world' are misleading and can be substantiated.
"They believe that TripAdvisor do not verify the reviews on their website and therefore cannot prove that the reviews are genuine or from real travellers," the ASA spokesman added.
TripAdvisor declined to comment on the allegations or the ASA's forthcoming investigation.
But Angus Struthers at TripAdvisor said it took the authenticity of customer reviews very seriously.
"We have numerous methods to ensure the legitimacy of the content on TripAdvisor," he said.
"We devote thousands of hours each year to battling fraud and improving our fraud detection efforts to ensure the integrity of our content," Mr Struthers added.
However, Adam Raphael, editor of the Good Hotel Guide, said the ASA's inquiry was "long overdue".
"TripAdvisor is wide open to collusive and malicious reviews," he said.
Chris Emmins of KwikChex said he wanted an "impartial authority" to look at TripAdvisor's claims that its reviews were trustworthy.
"Instead of saying, 'These are reviews you can trust,' they need to put a disclaimer up saying they cannot say whether the reviews are verified or not," he said.