US economy: No new jobs added in August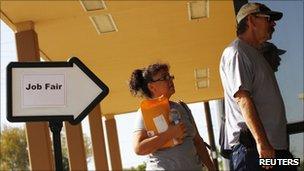 The US economy added no net new jobs in August, according to the key non-farm payrolls figures from the Department of Labor.
The August number was much worse than had been expected - the predicted figure was an addition of about 70,000 new jobs.
The unemployment rate remained unchanged from July at 9.1%.
In addition, the figures for the previous two months were revised down to show weaker jobs growth.
The Labor Department now says that in July 85,000 jobs were created, down from 117,000 in the earlier estimate, while the number of jobs added in June was revised down from 46,000 to 20,000.
"Companies that are overall doing OK are hesitating to hire and invest further, creating some fragility for the economy," Virginie Maisonneuve, head of global equities at Schroders told BBC News.
"We will need some help from the Fed and the government to avoid a recession."
US government bonds rallied after the figures were released.
The yield, which is the implied cost of borrowing, of the 10-year Treasury bond fell instantly from 2.13% to 2.03%, in anticipation of a possible further round of debt purchases by the Federal Reserve.
Global stock markets had been lower all day on Friday ahead of the numbers and they fell further after the publication.
The Dow Jones Industrial Average in New York opened down 2%.
The figure followed 10 consecutive months of job additions.
A strike by 45,000 Verizon workers reduced the figure, as striking workers do not appear on payrolls, although those employees have now returned to work.
"August was a pretty rough month for the economy," said Ryan Sweet at Moody's Analytics in Pennsylvania.
"We saw financial markets tighten. I think businesses sort of responded by putting hiring on the back-burner."
Average hourly earnings fell by 3 cents to $23.09, while the average working week dropped to 34.2 hours from 34.3 hours in July.
The size of the labour force increased by 366,000 to 153.6m.
Attention will now turn to a speech by President Obama next Thursday, in which he is due to outline a new plan for boosting growth and creating jobs.
"US companies have no confidence in the US economy and no confidence in the country's political leadership, so it's no surprise no jobs are being created," said Max Johnson at Currency Solutions.
"The US economy is looking increasingly forlorn and this latest jobs data will apply further downward pressure on the dollar."
A total of 17,000 jobs were added in the private sector in August, which were precisely cancelled out by 17,000 jobs lost in the public sector.
Local government has cut a total of 550,000 jobs since the employment peak in September 2008.
The number of people forced to work part-time because they were unable to find full-time employment rose from 8.4 million in July to 8.8 million in August.
Related Internet Links
The BBC is not responsible for the content of external sites.