House prices see summer dip, says Nationwide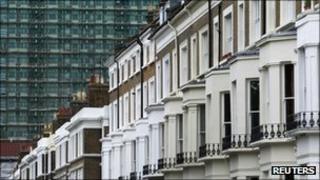 House prices fell slightly in August with values expected to stay the same or drift modesty lower for the rest of 2011, Nationwide says.
The building society said that property prices were 0.6% lower in August than in July, and 0.4% down on the same month a year ago.
The typical home now costs £165,914, the lender said.
It also warned that prices could be pushed down further if more workers were laid off.
"For some time now the residential property market has been moving sideways, as weak demand for homes co-existed with a situation where relatively few homes were coming on to the market," said Nationwide's chief economist Robert Gardner.
"A further fall in employment would be likely to upset the relatively delicate demand-supply balance and put downward pressure on prices."
However, he said that threats to UK economic growth meant that interest rates were expected to remain on hold until well into 2012, providing support for homeowners and domestic spending.
The Nationwide data is based on a sample of the lender's own loans during the month.
Other house price surveys include figures from the Land Registry which, although they lag behind the Nationwide data, provide a regional breakdown of prices.
The most recently published Land Registry figures showed that prices in the North East of England fell by 8.8% in the year to July. There was also an annual drop in prices in every area of England and Wales, except London.
The interactive content on this page requires JavaScript