Rents still being pushed higher, surveyors say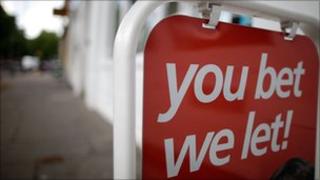 Private rents continue to be driven higher, according to the latest report from the Royal Institution of Chartered Surveyors (Rics).
Demand from tenants, many of whom have had their home-buying ambitions thwarted, is continuing to outstrip the supply of homes to rent.
Tenants on housing benefit made up 13% of all new lettings, the highest level since the survey started in 1999.
Rics blamed this on the "challenging" state of the economy.
"The imbalance between demand and supply is thought likely to persist, with the survey results suggesting that further gains in rents are likely over the coming months," Rics said.
"One of the main drivers of the strong demand for rental property continues to be would-be buyers who have moved to the lettings market after struggling to find mortgage finance, or first-time buyers unable to meet lenders' deposit requirements," Rics added.
The survey, for the three months to July, was based on answers from 156 Rics members who work as letting agents.