Tesco bids sayonara to 'unscalable' Japan business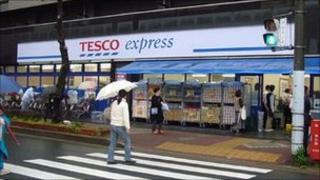 Tesco has announced that it intends to sell off its Japan business after eight years trying to break into the market.
The firm owns 129 small stores in the Greater Tokyo area, half of which it says are profitable.
"We have concluded that we cannot build a sufficiently scalable business," said chief executive Philip Clarke.
Japan is the smallest of Tesco's 13 international businesses. Analysts said the decision will now shift attention to the firm's loss-making US business.
However, Mr Clarke has vowed to turn around its American Fresh 'n' Easy chain by 2013.
'Fragmented'
The chief executive said Tesco would undertake a formal sale process of its Japan business in the coming months, and that business there would continue as usual in the meantime.
The UK retailer operates stores under its own name and the Tsurukame brand in Japan, and also has an own-label product line and a fresh kitchen providing fish and other products for the market.
Tesco first moved into the market in 2003, with the acquisition of C2 Network, which owned 78 stores.
However, despite expanding its chain, the firm faced persistent losses and the Japanese business was seen as too small and a distraction for management.
In February - before the earthquake struck - like-for-like sales in Japan were reported to have fallen 8.1% from a year earlier.
"Sales growth in Japan has been hard to come by," said Gavin Rothwell, research manager at groceries analyst IGD. "The retail market is fragmented and there are many strong regional players, often family-owned.
"Convenience stores dominate, particularly in the city centres, and a culture of 'immediacy' supports large numbers of vending machines/kiosks."
The UK firm is not the only outsider to fail in Japan.
French supermarket chain Carrefour sold its eight Japanese hypermarkets in 2005, and UK chemists Boots has also pulled out of the market, while Wal-Mart of the US is finding business at its Seiyu subsidiary tough.
Analysts said that Tesco's decision to sell reflected the declared aim of Mr Clarke - who took over as chief executive earlier this year - to put more emphasis on enhancing returns rather than expanding the business.
"The move should free up Tesco's resources to focus more strongly on key growth opportunities across Asia," said IGD's Gavin Rothwell.
"China and South Korea have been among the key growth markets in Asia for Tesco, and the retailer retains ambitious expansion plans in this region."