Toshiba, Hitachi and Sony to form LCD display company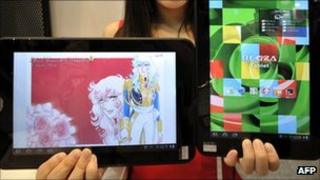 Hitachi, Sony and Toshiba are planning a joint venture to make small and medium-sized LCD displays for tablet PCs and smartphones.
They will use money from the Japanese government to help them compete with rivals from Taiwan and South Korea.
They have hesitated to invest in the LCD business because of expectations that prices are likely to fall.
The company will be operated by Innovation Network Corporation of Japan (INCJ), a government-backed firm.
The companies hope to have integrated the businesses by early 2012.
Analysts have predicted falling prices for LCD displays, despite the huge demand for gadgets such as smartphones and tablet computers.
Major alliance
"We will probably see oversupply in the near future," said Shigeo Sugawara from Sompo Japan Nippon Koa Asset Management.
"It's not a business that will likely provide stable profits in the mid- to long-term."
There are concerns that while Toshiba, Sony and Hitachi have 21.5% of the small and medium LCD display business between them, they use different types of display technology, which will make it difficult to combine the businesses.
INCJ will eventually hold 70% of the shares in the new company, with its three partners holding 10% each.
The companies have signed a memorandum of understanding, which is not currently binding. They hope to sign legally binding agreements later this year.
INCJ, which is 90% government-owned, will eventually invest 200bn yen ($2.6bn; £1.6bn) in the venture, which will overtake Sharp and Samsung to be the world's biggest manufacturer of small and medium LCD displays.
Sharp is about to receive a $1bn investment from Apple.