US consumer confidence 'falls sharply in August'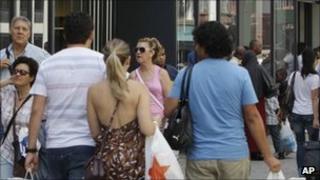 US consumer confidence slumped in August to its lowest level since April 2009, according to the latest monthly Conference Board report.
Its closely watched consumer index sank to 44.5 this month, from a downwardly revised 59.2 in July.
A reading of 90 or above indicates a healthy economy on the index, which measures consumers' attitudes to jobs and spending in the short term.
Official data on Friday is expected to show US unemployment remains above 9%.
"What we are effectively going through is a crisis of confidence," said Tom Porcelli, an economist at RBC Capital Markets in New York.
The latest Conference Board data will be a disappointment to the White House, especially as it comes just a day after official Department of Commerce figures showed consumer spending increased by 0.8% in July.
Consumer spending is closely watched in the US because it accounts for more than two-thirds of the country's economy.
The most recent figures for the US economy as a whole showed that it expanded at an annualised rate of 1% between April and June.