Birmingham City's Carson Yeung can travel to UK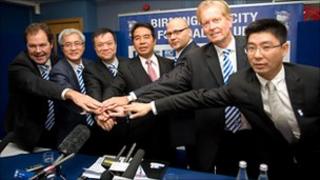 Hong Kong businessman and Birmingham City football club chairman Carson Yeung has been granted permission to travel to the UK next month.
Mr Yeung has been charged with money-laundering and is currently undergoing trial in Hong Kong.
He has been granted permission to travel from 15 to 19 September after the court doubled his cash bail to 8m Hong Kong dollars ($1m; £625,000).
Mr Yeung was denied permission to travel earlier this month.
The CEO of Birmingham International Holdings Ltd bought control of Birmingham City in October 2009 at a cost of £81m.
No threat
His lawyer, Clive Grossman, said in court that Mr Yeung did not represent a flight risk, because of his considerable business interests in Hong Kong.
He was also too much of a public personality, he said, for there to be any fear that he would abscond.
When Justice Stanley Chan argued that Mr Yeung could talk to company management in England and the Birmingham City players via teleconferencing, Mr Grossman said that Mr Yeung needed to see too many people to make teleconferencing viable.
He also said it was vital that Mr Yeung made a personal appearance.
"As director and chairman of his company, Yeung holds a duty to his shareholders in England," Mr Grossman told the court. "He has to speak to his board, players, fans and management."
Mr Yeung will also now have the opportunity to meet Birmingham City's new manager, Chris Hughton.
Mr Grossman emphasized that Mr Yeung was "the Alex Ferguson, as it were, of Birmingham City," in a reference to the manager of Manchester United, and his players needed to see him.
Birmingham City were relegated from the Premier League last season.
Charges
No plea was entered on Tuesday. Mr Yeung faces five counts of "dealing with property known or believed to represent proceeds of an indictable offence".
Mr Grossman told reporters outside the District Court that Mr Yeung denied all charges. The next pre-trial court hearing is on 7 December.
The prosecution told the court it would be calling 10 witnesses for the trial, including a forensic expert.
Mr Yeung, 51, is a former hairdresser who made his fortune on penny stocks in neighbouring Macau.